Mixed Greens with Pan-Fried Goat Cheese
Please tell me you will make this salad as soon as possible. I can't even begin to tell you how good it is! Even Mike, who claims to not like goat cheese, was a huge fan. I've never thought to fry goat cheese before (I didn't even know you could do it!), but it is amazing. There is just something about the warm, melty goat cheese combined with the oil and vinegar coated lettuce that makes this salad absolutely delicious. I couldn't get enough of it! Let's just say I ate more than my share of this salad, causing Mike to complain once he realized how good it was. In my defense, he did claim he didn't like goat cheese. 🙂 As an added benefit, this salad seems so classy, and I felt like I was eating something made in a cute little bistro, not my own kitchen. So please, try this. I know you will love it as much as we did!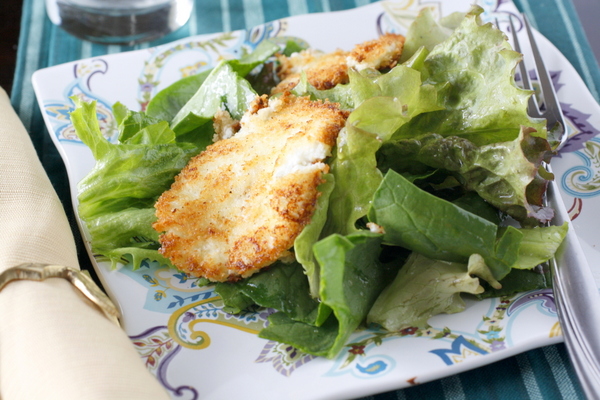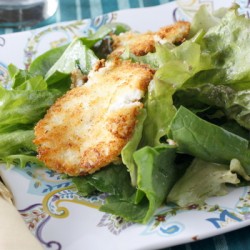 Mixed Greens with Pan-Fried Goat Cheese
Ingredients:
1/4 lb (125 g) fresh goat cheese
1/2 cup fine dried bread crumbs (*I used panko, since that's what I had)
1/2 tsp fresh thyme leaves
salt and freshly ground pepper
1/3 cup plus 1 Tbsp olive oil
2 Tbsp red wine vinegar
4 cups mixed lettuce leaves
Directions:
Divide the cheese into 4 equal portions. Shape each portion into a patty about 3 inches in diameter. In a bowl, mix together the bread crumbs, theyme, and 1/2 tsp each salt and pepper. Pour onto a sheet of waxed paper. Working with one cheese patty at a time, press both sides into the bread crumb mixture. Set aside.
In a large salad bowl, whisk together the 1/3 cup olive oil, the vinegar, and salt and pepper to taste. Add the greens to the salad bowl and toss well. Divide among plates and set aside.
In a frying pan over medium heat, warm the remaining 1 Tbsp olive oil. Add the goat cheese patties and cook until lightly browned on the bottom, 1-2 minutes. Turn and continue to cook until the cheese begins to spread slightly, about 1 minute more. Place on patty on each plate of greens and serve immediately.
from Cooking from the Farmer's Market