Thai-Style Chicken with Basil and Pineapple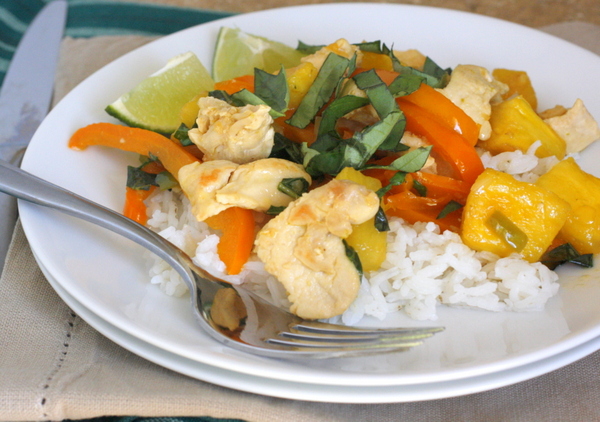 This is a fun and unique stir-fry recipe I ran across last year. I've been saving the recipe ever since then, and finally got around to trying it a few weeks ago. My mom was visiting and we were experimenting with different stir-fry recipes (like chicken and sugar snap pea stir-fry – yum!).  This recipe had a great fresh taste and a fun flavor combination.  It was a very quick recipe to throw together, and it tasted great. I always love pineapple in stir-fry and it worked perfectly with the thai flavors of this dish. If you're looking for a unique and easy way to serve chicken and vegetables for dinner, look no further than this thai-style chicken with basil and pineapple. I hope you like it!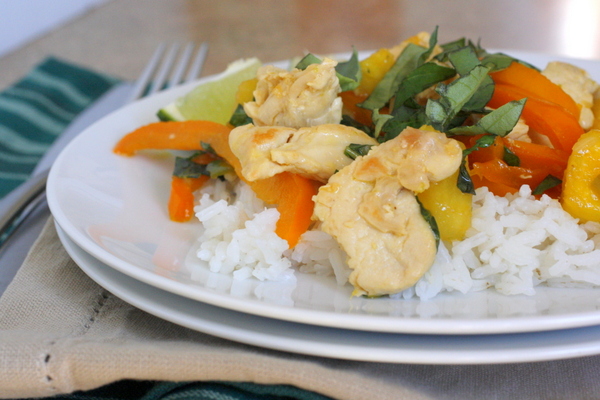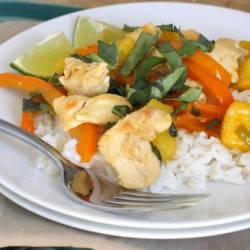 Thai-Style Chicken with Basil and Pineapple
Ingredients:
Peanut or Vegetable Oil for stir-frying
1 1/2 lb skinless, boneless chicken breasts, chopped into bite sized pieces
salt and pepper
1 cup pineapple chunks
1 bell pepper, seeded and thinly sliced
1 red fresno (milder) or thai (hotter) chile pepper, seeded and finely chopped
1 piece (1 1/2 inches) fresh ginger, minced
3-4 cloves of garlic, chopped
2 Tbsp tamari
1 tsp sugar
1 1/2 Tbsp fish sauce
1 cup basil leaves, torn
1 lime, 1/2 juiced and 1/2 cut into wedges, plus 1 tsp zest
Jasmine rice, for serving
Directions:
Heat 1 1/2 Tbsp oil in a large nonstick skillet over high heat. Pat the chicken dry and season with salt and pepper. Add the chicken to the pan in a single layer and do not touch for 2 minutes. Stir-fry until golden, about 3 minutes more. Transfer to a plate.
Add a little more oil to the skillet and heat up, then add the pineapple, bell pepper, chile pepper, ginger and garlic and stir-fry until crisp-tender and the pineapple pieces are light golden at the edges, about 3 minutes. Stir in the tamari, sugar and fish sauce. Add the chicken and toss to coat.
Turn off the heat and add half the basil leaves to wilt. Stir in the lime juice and zest and toss again to combine. Serve with the rice and garnish with the lime wedges and remaining basil.
from Rachael Ray Magazine, June/July 2011