Spiced Shawarma Chicken Wraps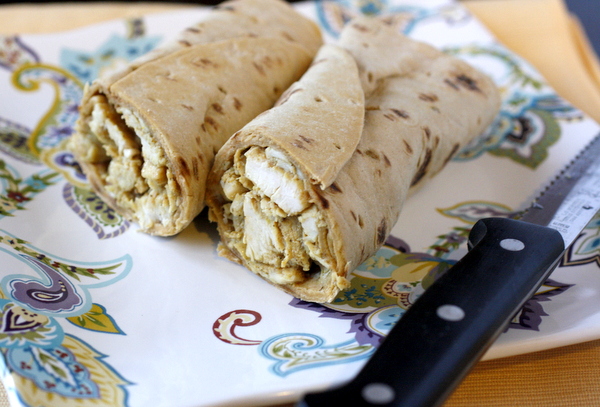 It's time for the second installment of the mid-east feast (read about the zucchini fritters from last week)! This week's recipe is for Spiced Shawarma Chicken Wraps. I was very intrigued by this recipe when I saw the great variety of spices it called for and I had to make a quick run to the grocery store for a few of the more interesting ones. The combination of spices ended up being absolutely perfect, and I couldn't believe how full of flavor the chicken was.  I was in a rush making this, so I unfortunately I had to skip some of  accompaniments to these wraps. In her cookbook, Faith has some great recipes for homemade pickles and garlic mayonnaise that sound really good! But if, like me, you're running short on time, these wraps taste great on their own. The chicken is tender, and the whole thing has a ton of flavor. Mike loved this, and I can't wait to make it again, this time with all the extras!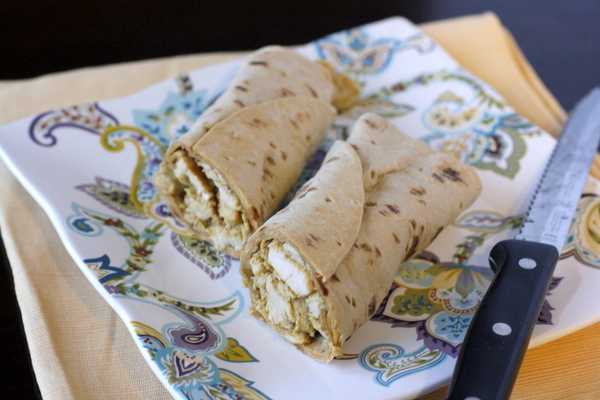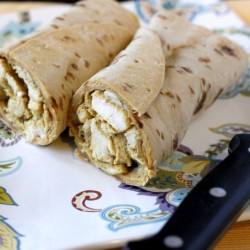 Spiced Shawarma Chicken Wraps
Ingredients:
1 batch Shawarma Spice Mix (recipe below)
1/2 cup (125 ml) plain yogurt
1 1/2 tablespoons fresh lemon juice
3 large cloves garlic, crushed
1 1/2 teaspoons salt
2 lb (1 kg) boneless, skinless chicken breast
2 tablespoons olive oil, plus more for sautéing
flatbread, for serving
Shawarma Spice Mix
2 teaspoons ground cumin
2 teaspoons ground coriander
3/4 teaspoon ground black pepper
1/2 teaspoon ground ginger
1/2 teaspoon ground allspice
1/4 teaspoon ground fenugreek
1/4 teaspoon ground cardamom
1/4 teaspoon ground cloves
1/4 teaspoon ground sweet paprika
1/4 teaspoon ground turmeric
1/8 teaspoon ground red pepper (cayenne) (optional)
Directions:
Prepare the Shawarma Spice Mix. Combine the spice mix with the yogurt, lemon juice, garlic, and salt in a large bowl. Add the chicken and toss to coat. Cover and refrigerate 2 to 24 hours.
Preheat oven to 350°F and spread 1 tablespoon of oil on the inside of a large baking dish. Scrape off any excess marinade from the chicken with your hands. Starting in the center of the oiled dish, arrange the chicken so that it overlaps, and drizzle the remaining 1 tablespoon of oil on top. Bake (uncovered) 1 hour, or until the chicken is fully cooked; cool. (It's done when you cut into the center and there is no pink.)
Remove the chicken from the pan and transfer it to a large cutting board; slice it very thinly across the grain, then transfer it back into the pan it was cooked in to soak up the juices (the chicken can be refrigerated this way for up to 3 days before continuing with the rest of the recipe, or you can continue after 10 minutes).
Coat the bottom of a large skillet over medium-high heat with oil. Once hot, add the sliced chicken and sauté until crispy and golden brown (you may need to sauté the chicken in two or three batches so the pan isn't overcrowded).
Add some chicken in the center of each piece of bread; (and any other vegetables you like) and roll it up. Toast the sandwiches on a dry griddle or a flat sandwich press so that the bread gets golden brown and slightly crispy. Serve as is, or cut into small rounds; serve with additional Garlic Mayonnaise for dipping.