Baked Potato Soup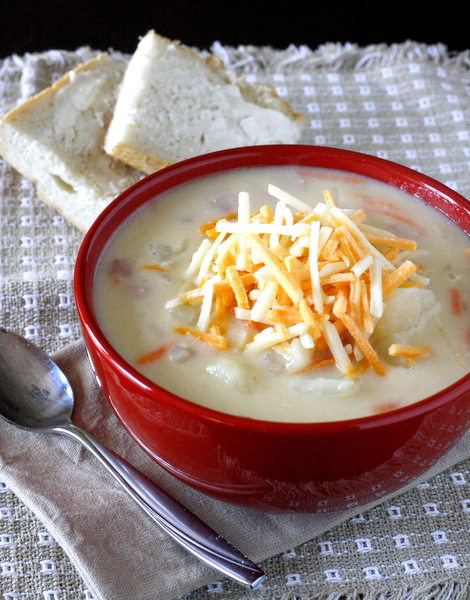 I've been meaning to share this baked potato soup recipe with you for a long time. Actually, it was one of the first recipes I ever shared on my blog, but it got lost over a year ago when I redesigned my blog. Since then I've been meaning to take some new pictures and re-post it, and now I've finally gotten around to it. 🙂
We love this soup. It's creamy and cheesy with lots of bacon and chunks of potatoes. And it is made without cream, which makes it a slightly healthier than traditional potato soups. So not only is it absolutely delicious, but it's better for you than other soups! 🙂
My mom has been making this recipe for years, and it's one of my favorites. I've shared this soup with countless people, and everyone always talks about how good it is.
Other than baking the potatoes (and if you're in a rush, you can use the microwave), this soup really doesn't take that long to make. If the potatoes are baked already, I can have this ready to go in under 30 minutes.
I've made this soup so many times, and there are plenty of ways you can play around with it an dmake it your own. My current favorite version calls for shredded carrots and uses diced ham instead of bacon. No matter which way you make it, however, you are sure to love it.
On a cold evening, there's not much better than a warm bowl of baked potato soup and some fresh bread. I hope you try this one – it's been a family favorite for a long time!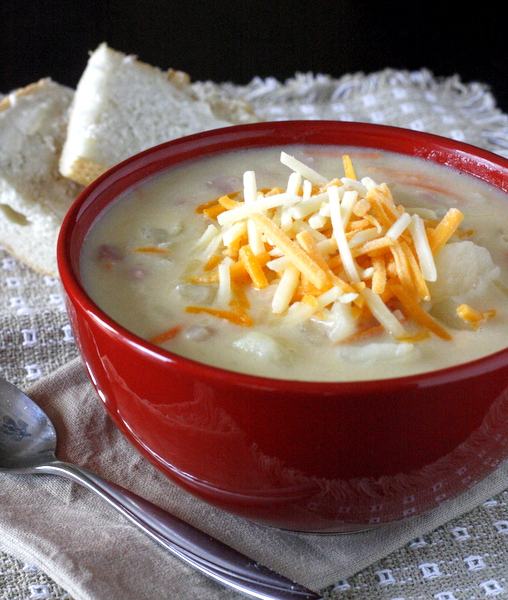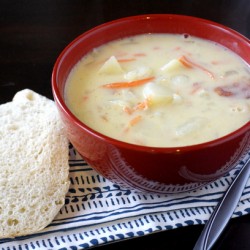 Baked Potato Soup
Ingredients:
1/4 cup butter or margarine
1/4 cup chopped onion
1/2 cup matchstick carrots, optional
1/4 cup all-purpose flour
1 (14 1/2-ounce) can chicken broth
1 (12-ounce) can evaporated milk
2 large or 3 medium potatoes, baked
Salt and ground black pepper to taste
4 strips bacon, cooked and crumbled (or 3/4 cup diced ham)
1/2 cup shredded cheddar cheese, for serving
Directions:
Melt butter in large saucepan over medium heat. Add onion and carrots, if using, and cook, stirring occasionally, for 1 to 2 minutes or until tender. Stir in flour and cook for 1 minute. Gradually stir in broth and evaporated milk.
Scoop the potato pulp from one potato. Mash and add pulp to broth mixture. Cook over medium heat, stirring occasionally, until mixture just comes to a boil.
Dice remaining potato and add to soup. Cook on low until potato is heated through. Stir in the bacon (or ham). Season with salt and pepper. Serve with cheese.