Chocolate Peppermint Crinkle Cookies
In the short time it's been since I first made these chocolate peppermint crinkle cookies, I've become obsessed.
I've always loved chocolate crinkles, but the addition of peppermint really takes these over the top. Plus, the texture of these is just incredible – they are almost fudge-like inside! The cookies flattened out nicely into pretty little circles, while still staying perfectly thick and chewy.
I also learned something new from baking these. If you roll the cookie dough balls in a little bit of granulated sugar before adding a nice coating of powdered sugar, the granulated sugar will keep the powdered sugar from soaking into the cookie while it bakes, resulting in crinkles cookies that are nice and pretty.
These peppermint chocolate crinkle cookies would certainly be a beautiful (and delicious) addition to your Christmas cookie tray!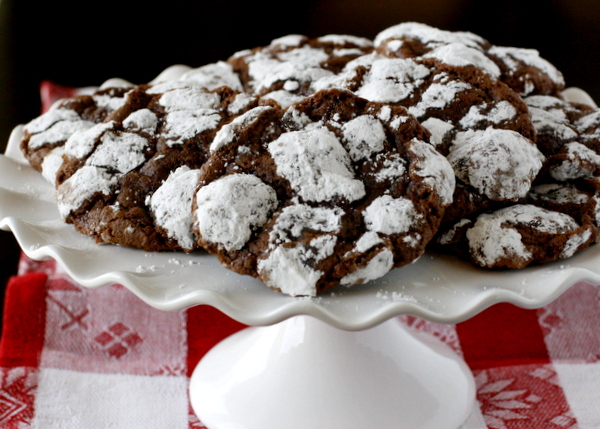 P.S. You can see all of my Christmas treat recipes from over the years at this Christmas Cookies tag. Enjoy! And, as always, let me know if you try any and how you liked them.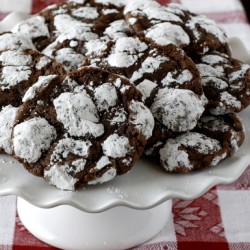 Chocolate Peppermint Crinkle Cookies
Ingredients:
1 3/4 cup plus 2 tablespoons all-purpose flour
1 1/2 teaspoons baking powder
1/2 teaspoon salt
8 ounces semi-sweet chocolate, finely chopped
2 1/2 cups sugar
1/4 cup of canola oil
3 tablespoons unsalted butter, melted and warm, not hot
2 tablespoons light corn syrup
2 large eggs
1 large egg yolk
2 teaspoons pure vanilla extract
1 1/2 teaspoons peppermint extract
1/4 cup sugar, for rolling
1 cup powdered sugar, for rolling
Directions:
In a medium sized bowl, whisk together the flour, baking powder, and salt and set aside.
In a separate, microwave-safe bowl, melt the chocolate in the microwave on 50 percent power for 1 minute, stir, and continue and microwaving in 15 second increments until melted and smooth.
In a large bowl, beat together the 2 1/2 cups of sugar, the oil, butter and corn syrup until blended. Beat in the eggs, egg yolk, vanilla and peppermint extract. On low, beat in the melted chocolate. Add the flour mixture and mix on low speed. Cover and refrigerate several hours or overnight.
Heat oven to 325 degrees F. Line a baking sheet with parchment. Roll the dough into 2 inch balls. Roll each dough ball lightly in granulated sugar first, then very heavily in confectioners' sugar. The granulated sugar will keep the powdered sugar from soaking into the cookie while it bakes.
Arrange cookies 2 inches apart and bake 12 to 14 minutes. For chewy cookies, let them cool completely on the baking sheet.