Peppermint Sugar Cookies
Day 4 of the 12 Days of Christmas Treats! It's no secret that I love peppermint flavored treats this time of year. If you look back through my Christmas cookie archive, you will see plenty of evidence of that. I'm only surprised it took me this long to make these peppermint sugar cookies!
The cookies are soft and chewy and have a delicious peppermint flavor. Plus, just like any good sugar cookie, they are perfectly sweet and buttery. I made them a little extra special (and a little more peppermint-y) by drizzling melted candy cane kisses on top – yum! You could also use white chocolate, or just leave them as-is. They are sure to be delicious no matter how you make them. 🙂
*Note: I find candy cane kisses in my local grocery store in the baking aisle with the rest of the Christmas themed baking items. Sometimes they are also in the candy aisle with the rest of the hershey's kisses. You can also find them on Amazon.
*See all 12 days of Christmas Treats from 2014 here! 🙂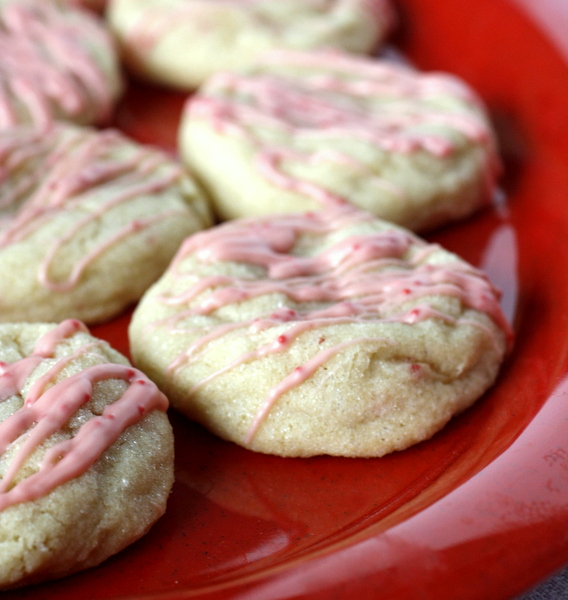 *Check out the delicious treats from previous years!  Peanut Butter Dough Balls | Peanut Butter Pretzel Bites | Gingerbread Truffles | Minty Fudge Oat Bars
P.S. You can see all of my Christmas treat recipes from over the years at this Christmas Cookies tag. Enjoy! And, as always, let me know if you try any and how you liked them.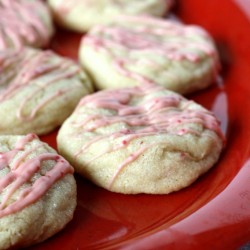 Peppermint Sugar Cookies
Ingredients:
1/2 cup butter, softened
3/4 cup sugar
1 egg
1/2 tsp vanilla
1/8 tsp peppermint extract
1 2/3 cups all-purpose flour
1 tsp cream of tartar
1/2 tsp baking soda
1/2 tsp salt
1/2 cup chopped candy cane kisses
1/4 cup sugar
10-12 candy cane kisses for topping, *optional
Directions:
Heat oven to 350°F. Line cookie sheets with parchment paper and set aside.
In a medium sized bowl cream the butter and 3/4 cup sugar. Add in the egg, vanilla and peppermint flavoring and beat until well blended. Add flour, cream of tartar, baking soda and salt; beat at low speed until well mixed. Stir in chopped candy cane kisses.
Shape dough into 1-inch balls; roll in sugar and place 2 inches apart onto prepared cookie sheets. Bake 10-12 minutes or until edges are lightly browned. Be careful not to over bake. Cool 2-3 minutes on cookie sheet before removing to a cooling rack to cool completely.
For the topping: If desired, melt extra candy cane kisses in the microwave at 50% power, stirring frequently. Drizzle over cooled cookies.