No-Bake Chewy Granola Bars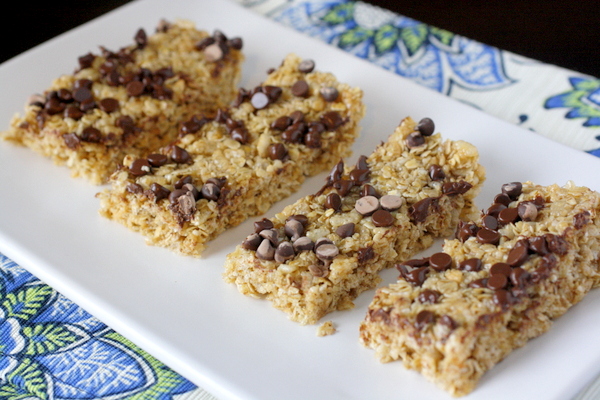 These no-bake chewy granola bars are so good! Even better, they are incredibly quick and easy to make.  If you like those pre-packaged Quaker chewy granola bars, you will love these.  They are full of oats and honey and they have a great texture – very soft and chewy. And of course the chocolate on top only makes them better. 🙂 I've made these multiple times since I discovered the recipe, and I try to always keep a stash in the freezer for quick snacks. This is by far the easiest granola bar recipe I've tried yet, and I hope you like it as much as we do. 🙂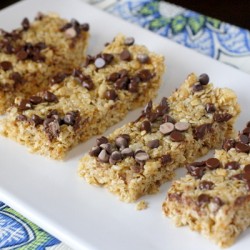 No-Bake Chewy Granola Bars
Yield: Makes 10-12 bars
Prep Time: 10 min
Cook Time: 10 min
Total Time: 20 min
Ingredients:
4 tablespoons butter
1/4 cup honey
1/4 cup packed light brown sugar
2 cups quick cooking oats (don't substitute rolled oats)
1 cup rice krispies cereal
1/2 teaspoon vanilla extract
1/4 cup mini chocolate chips
Directions:
Lightly coat a 9X11-inch pan with cooking spray and set aside.
In a large bowl, stir together the oats and rice krispies and set aside. In a small saucepan, combine the butter, honey and brown sugar. Cook, stirring frequently, over medium heat until the butter melts and the mixture begins to bubble. Let simmer for 2 minutes. Remove from the heat and stir in the vanilla.
Pour the butter mixture over the oats/rice krispies and mix until evenly moistened. Transfer the mixture into the prepared pan and use a piece of waxed paper, lightly coated with cooking spray, to press the mixture down very firmly. Sprinkle the mini chocolate chips on top and press down lightly so they stick. Let the bars cool for at least 2 hours at room temperature before cutting into rectangles. Store in an airtight container at room temperature for 2-3 days.