Blueberries and Cream Baked Oatmeal
I've been experimenting with a lot of oatmeal recipes lately, and apparently I've got blueberries on my brain as well!  Last week I posted these blueberry oatmeal breakfast bars, and when the wonderful people at UDIM asked me to make a dairy inspired recipe for February, I decided on this delicious recipe for blueberries and cream baked oatmeal. Maybe it is my subconscious mind longing for summer. 🙂 This baked oatmeal recipe is loaded with fresh blueberries, hearty oatmeal, and has just enough brown sugar and real cream to give it a nice sweet, creamy taste. The texture is perfectly cake-like and the oatmeal holds together well. You could cut down on the sugar slightly if you like your breakfast a little less sweet, but I think it's perfect as-is. 🙂 Serve the pieces in a bowl with milk to truly experience the blueberries and cream flavor. This recipe is a family favorite and I hope you enjoy it!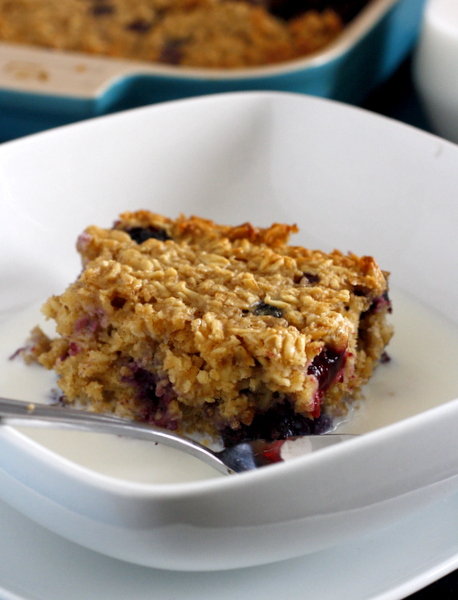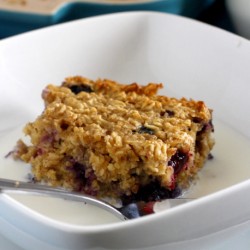 Blueberries and Cream Baked Oatmeal
Yield: Yields 9 pieces
Prep Time: 15 minutes
Cook Time: 45 minutes
Total Time: 1 hour
Ingredients:
3 cups old fashioned oats
6 Tbsp butter, melted
3/4 cup brown sugar
1 tsp cinnamon
1 1/4 cups buttermilk
1/4 cup + 2 Tbsp cream
2 eggs, beaten
1 1/2 tsp baking powder
1/2 tsp salt
1 cup blueberries
Directions:
In a large bowl, combine the oats, butter, brown sugar, cinnamon, buttermilk, and cream. Cover and refrigerate 4 hours, or up to overnight.
Remove the oatmeal mixture from the refrigerator and pre-heat the oven to 350. Lightly grease a 9x9 pan. Stir the eggs, baking powder, salt and blueberries into the oatmeal mixture until well combined. Pour into prepared pan. Bake at 350 for 45 minutes. Cut into squares and serve with milk.
*Note: this can be made with frozen blueberries, but you will need to increase the baking time to close to an hour.
*This post was sponsored by the United Dairy Industry of Michigan, but as always, all opinions are my own. I personally love working for UDIM because Milk is a local food, produced by hardworking Michigan farm families. That means cheese, yogurt and other dairy foods are local too! Follow UDIM on Facebook, Pinterest, YouTube, Instagram, and Twitter to find out why Milk Means More.