Cheesy Penne with Broccoli and Chicken Sausage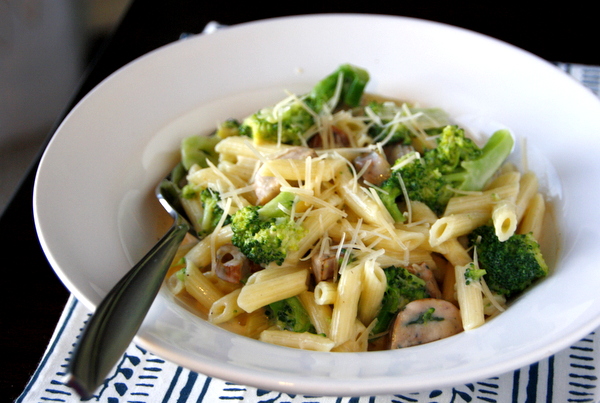 This Cheesy Penne with Broccoli and Chicken Sausage makes a great quick and easy meal. I've made it twice in a two week time period, and I can't get over how simple it is to throw together. Not only that, but it tastes great and is even fairly nutritious! I love any type of cheesy pasta, and the homemade cheese sauce in this dish is light and full of flavor. Add in some broccoli and chicken sausage and you've got a complete meal that your whole family will love. As an added bonus, the reheated leftovers taste great as well! Enjoy 🙂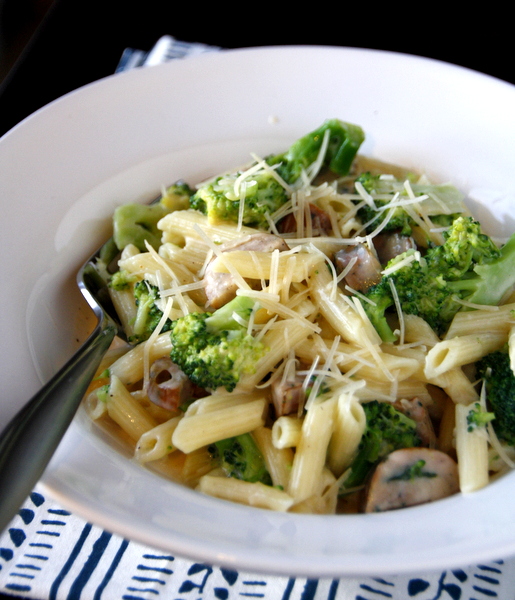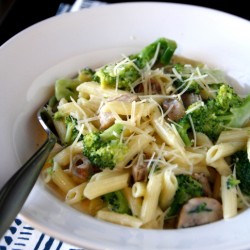 Cheesy Penne with Broccoli and Chicken Sausage
Ingredients:
8 ounces uncooked mini penne pasta
5 cups broccoli florets (about 1 medium head)
2 links chicken sausage, cut into bite-sized pieces
1 1/3 cups milk
2 tablespoons all-purpose flour
5 tablespoons grated fresh Parmesan cheese, divided
2 tablespoons cream cheese
1 teaspoon Dijon mustard
1/2 teaspoon salt
1/4 teaspoon freshly ground black pepper
1/8 teaspoon freshly grated nutmeg
4 ounces cheddar cheese, shredded (about 1 cup)
Directions:
Cook pasta according to package directions. During the last 3 minutes of cooking, add broccoli to the pot. Drain and place pasta and broccoli in a large bowl.
Meanwhile, lightly coat a small saucepan with cooking spray. Over medium heat, cook the chicken sausage pieces, stirring frequently, until lightly browned. Add to the bowl with the pasta and broccoli.
In a medium sized saucepan, combine the milk and flour, stirring with a whisk until smooth. Cook over medium heat for 5 minutes or until slightly thickened. Remove from heat. Add 3 tablespoons Parmesan and remaining ingredients, stirring with a whisk until smooth. Add cheese mixture to pasta mixture; toss. Sprinkle with remaining Parmesan and serve immediately.
adapted from Cooking Light