Herb-Stuffed Zucchini
I've got another great zucchini recipe for you today! This herb-stuffed zucchini is a keeper for sure. It's full of flavor from the fresh herbs and summer produce. I made this while I was at my parents' house last week and my mom and I both loved it! My dad refuses to eat zucchini, and we told him he was really missing out by not giving this recipe a try. (Believe it or not, he wouldn't even eat the double chocolate zucchini bread from last week – crazy!) This herb-stuffed zucchini makes a great summer side dish. To keep things simple, you could prepare it in advance and just bake it at the last minute. I know I'll be making this one again soon!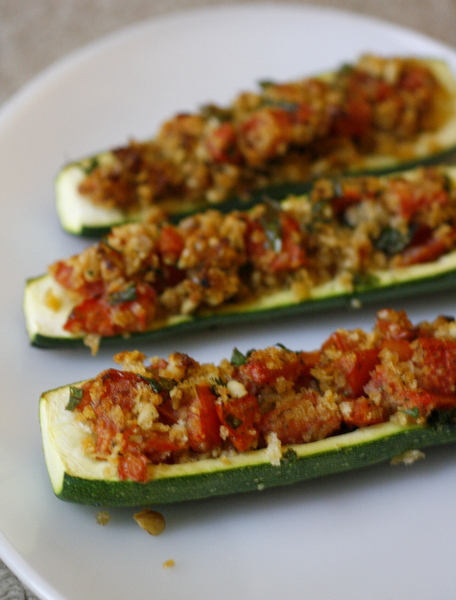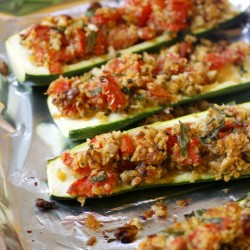 Herb-Stuffed Zucchini
Ingredients:
2 medium zucchini
1/3 cup panko breadcrumbs
1 medium tomato, chopped
2 Tbsp chopped fresh parsley
2 Tbsp chopped fresh dill
2 Tbsp chopped walnuts
1 minced garlic clove
2 Tbsp olive oil
Salt and Pepper
Directions:
Preheat the oven to 425.
Split the zucchini in half lengthwise and scoop out the sides. Season with salt and set aside.
In a small bowl, combine the breadcrumbs, tomato, parsley, dill, walnuts, garlic, olive oil, and salt and pepper to taste. Spoon into the zucchini and drizzle with olive oil.
Bake for 25-30 minutes, or until zucchini is tender.
from Food Network Magazine