Southwestern Chicken Panini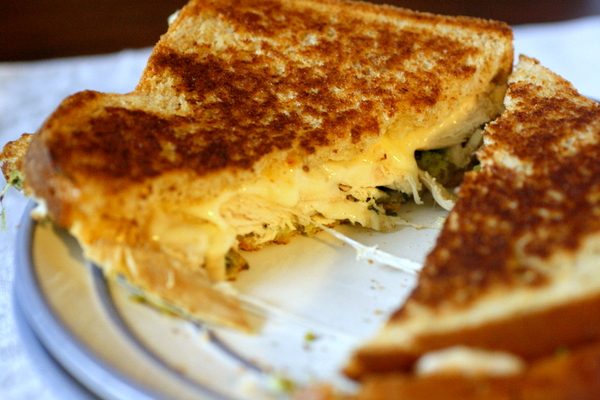 If you follow me on Facebook, you know that I made quite a few new recipes while at my parent's house last week, and not all of the pictures turned out as good as I hoped. It seemed like every time I was ready to take a picture, the sky turned dark gray and it started to pour. I can only hope that the pictures I took of this southwestern chicken panini convince you to try it, because this sandwich was so good! Of course, chicken and cheese is always a great combination in a panini, but what really made this sandwich stand out was the cilantro pesto. I never would have thought to make a pesto out of cilantro, but it really gave the panini a great southwestern flavor. As if that wasn't enough, you also add chipotle mayonnaise to the mix as well. Suffice to it say, this sandwich was full of flavor and absolutely delicious. 🙂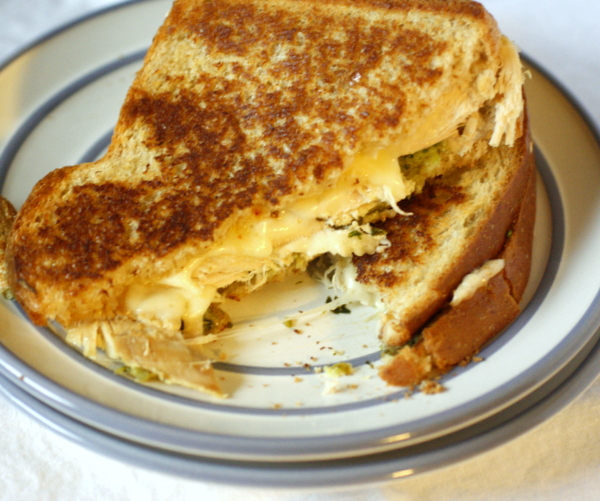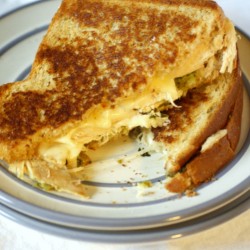 Southwestern Chicken Panini
Yield: Makes 2 sandwiches
Ingredients:
2 cups packed fresh cilantro, leaves and stems
4 cloves garlic
1 jalapeno, seeded and chopped
Juice of 1/2 lime
Pinch of salt
2 Tbsp olive oil
1/4 cup mayonnaise
1 Tbsp minced chipotle chile in adobo sauce
1/2 tsp sugar
4 slices bread, 1/2-inch thick
softened butter
2 oz pepper jack or havarti cheese, thinly sliced
3 oz rotisserie chicken, torn into large pieces
Directions:
Make the cilantro pesto: Combine the cilantro, garlic, jalapeno, lime juice and salt in a food processor. Pulse until minced. With the machine running, drizzle in the oil until a paste forms.
In a separate bowl, combine the mayonnaise, sugar and chipotle.
Spread butter on one side of each slice of bread. Spread some chipotle mayonnaise on the other side of two slices, and 1 Tbsp cilantro pesto on the other two slices. Top pesto with cheese, then chicken. Place the other two slices of bread on top, buttered side up. Toast sandwiches on both sides and serve immediately.