Lemony Lentil Soup
I am so excited to share this lentil soup recipe with you today! Near where I used to live, there is a little Lebanese restaurant that serves the best lentil soup I've ever had. My brother still lives there, and when I'm back visiting we always make the trip for lunch or dinner, and I almost always order the lentil soup. I've tried a few recipes at home, hoping to replicate the restaurant version, but have always been disappointed. Until now. This lemony lentil soup recipe ranks right up there with my old favorite. Yes, it's that good! The addition of lemon to an otherwise traditional recipe gives the perfect flavor combination.  Add a generous sprinkling of feta cheese, and you have one delicious bowl of soup. I really hope you try this one – it's the only lentil soup recipe I'll be making from here on out. 🙂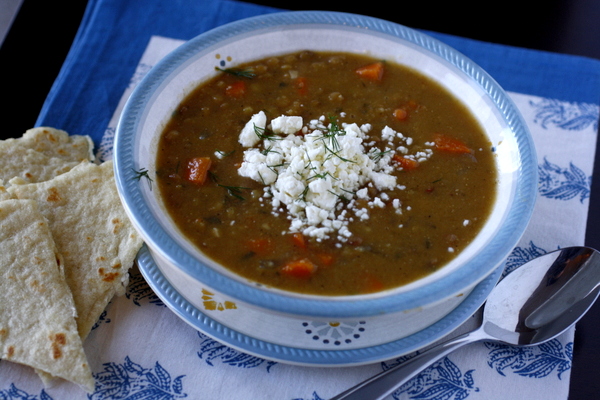 *Note: The original recipe called for a sprinkling of dill on top, which is why you see it in the pictures. However, I actually preferred it without the dill, so I left that out of the recipe on the blog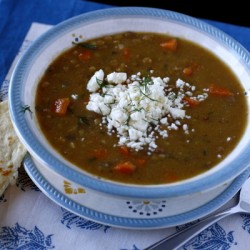 Lemony Lentil Soup
Ingredients:
2 cups dried lentils
2 Tbsp olive oil
1 large onion, diced
1 tsp salt
6 cloves garlic, minced
3 carrots, diced
1/2 tsp pepper
1/4 tsp red chili flakes
1 Tbsp oregano
1 Tbsp fresh rosemary, chopped
2 bay leaves
8 cups vegetable or chicken stock
Juice of 2 lemons
2 tsp lemon zest
1 cup feta cheese, crumbled
Directions:
Rinse the lentils in a colander and set aside to drain.
Heat the olive oil in a large pot. Add onions and saute until translucent. Add carrots, garlic, salt, pepper, chili flakes, rosemary, and oregano. Stir well and saute until the carrots are tender. Add the bay leaves, stock, and lentils and bring to a boil. Reduce the heat and simmer for about 25 minutes, or until the lentils are soft.
Remove the bay leaves. Place approximately half the soup in a blender and puree until smooth. Pour back into the soup pot. Add the lemon juice and salt. Taste and add salt or pepper as needed.
Serve with feta cheese on top.
*Note: I prefer my lentil soup this way - with just half of the soup pureed. You could also either puree all of it, or leave it as is and not puree any of it - totally a personal preference.