Slow Cooker Tex-Mex Chicken Stew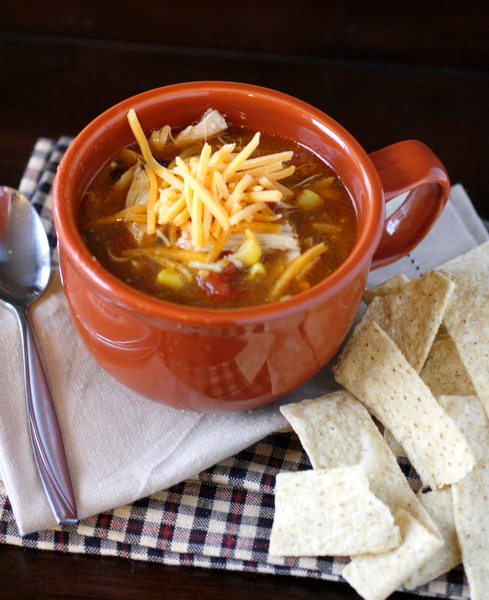 I have got a great crock pot recipe for you today! This slow cooker tex-mex chicken stew is so good. It's very similar to chicken chili -similar enough that I served it with cheese on top and tortilla chips on the side. 🙂 The chicken was incredibly tender from being cooked in the crock pot all day, and the seasonings and spices made this soup very flavorful. It wasn't overly spicy, which is just the way I like it, but you could easily increase the heat with an extra jalapeno or two. Overall this tex-mex chicken stew was well liked, and Mike said I can make it again anytime – a sure sign of success. 🙂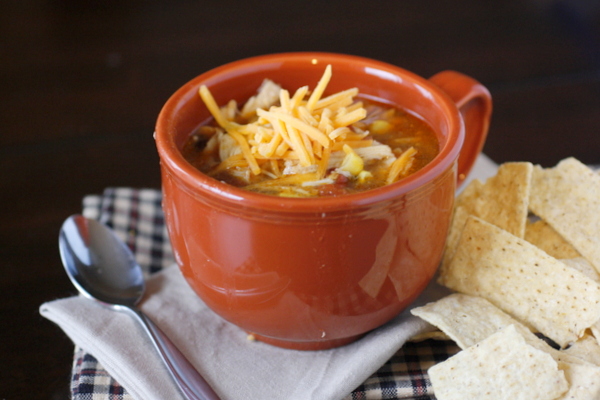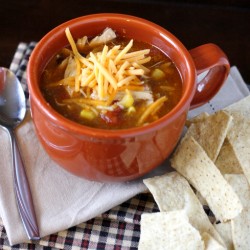 Slow Cooker Tex-Mex Chicken Stew
Ingredients:
2 onions, minced
2 jalapeno chiles, seeded and minced
6 garlic cloves, minced
1 Tbsp tomato paste
1 Tbsp vegetable oil
1 Tbsp chili powder
4 cups low-sodium chicken broth, plus extra as needed
1 (14.5 oz) can diced tomatoes, drained
1/4 cup Minute tapioca
1 Tbsp light brown sugar
3 pounds boneless skinless chicken thighs, trimmed
Salt and Pepper
2 cups frozen corn
1 (15-oz) can black beans, drained and rinsed
Minced canned chipotle chile in adobo sauce
1/4 cup minced fresh cilantro
Directions:
In a small bowl, microwave the onions, jalapenos, garlic, tomato paste, oil and chili powder, stirring occasionally, until onions are softened, about 5 minutes.
Transfer to slow cooker. Stir broth, tomatoes, tapioca, and sugar into slow cooker. Season chicken with salt and pepper and nestle into slow cooker. Cover and cook on low until chicken is tender, 4-6 hours.
Transfer chicken to a cutting board, let cool slightly, then shred into bite-size pieces. Let stew settle for 5 minutes, then remove fat from surface using a large spoon.
Stir in the corn and beans, cover and coo on high until heated through, about 10 minutes. Stir in shredded chicken, chipotles to taste, and let sit until heated through, about 5 minutes. Stir in addition broth if necessary to adjust the consistency. Stir in the cilantro, and season with salt and pepper to taste.