Chocolate Pumpkin Bread
I've got another great pumpkin recipe for you today! This chocolate pumpkin bread is sure to be a fall favorite that you make year after year. I got the recipe from a woman in my church who makes this bread every year to give out to friends and family. After hearing all the rave reviews, I knew I had to try the recipe for myself. Like most quick breads, this recipe is easy to throw together and tastes great. You end up with three loaves (although it would be pretty easy to cut down the recipe), which makes it perfect to be able to eat some and also give some away. The bread is nice and moist from the pumpkin and full of chocolate flavor and fall spices. We loved this bread and I'm pretty sure you will too!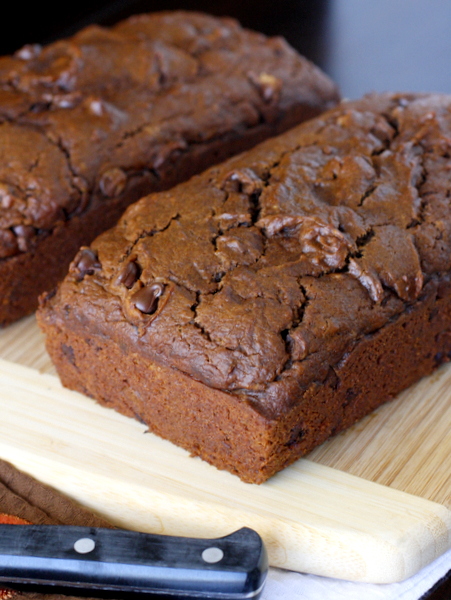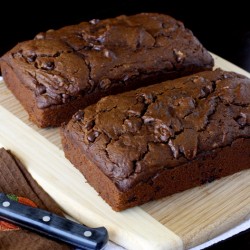 Chocolate Pumpkin Bread
Ingredients:
3 3/4 cups all-purpose flour
3 1/2 cups sugar
1 1/2 teaspoons salt
1 1/2 teaspoons baking powder
1 1/4 teaspoons baking soda
1 1/4 teaspoons ground cinnamon
1 1/4 teaspoons ground cloves
1/2 teaspoon ground nutmeg
3 Large Eggs
1 can (29 ounces) solid-pack pumpkin
1 1/4 cups canola oil
3 ounces unsweetened chocolate, melted and cooled
1 1/2 teaspoons vanilla extract
2 cups (12 ounces) semisweet chocolate chips
Directions:
In a large bowl, whisk together the flour, sugar, salt, baking powder, baking soda, cinnamon, cloves and nutmeg.
In another large bowl, whisk the eggs, pumpkin, oil, chocolate and vanilla. Stir the wet ingredients into dry ingredients just until moistened. Fold in the chocolate chips.
Transfer to three greased 9-in. x 5-in. loaf pans.
Bake at 350° for 55-65 minutes or until a toothpick inserted near the center comes out clean. Cool for 10 minutes before removing from pans to wire racks.