Parker House Rolls with Sea Salt
Homemade Parker House rolls with sea salt are rich, buttery, and perfect for a special dinner!
These homemade Parker House rolls with sea salt are simply wonderful! You really can't go wrong with homemade bread, but these cute little rolls are extra festive and delicious!
They are rich and buttery, and yet also incredibly light and fluffy. The sea salt on top makes the rolls even better and adds the perfect salty crunch. They are perfect for a special occasion (like Thanksgiving or Christmas!) or for a big family dinner. However, I also like making a huge batch of them, freezing them, and then pulling them out of the freezer as needed. I actually made these Parker House rolls this past past weekend to go with some homemade soup and everyone loved them!
These rolls take a little bit of time and work to make, but trust me when I say that they're worth it! I love that all the work can be done a day in advance and then they rest in the fridge overnight (or for up to 24 hours). If you're planning a busy meal, you can get them ready ahead of time and just bake them at the last minute. You can also bake them days in advance, freeze them, and then re-warm in the oven, which would definitely keep things nice and simple.
Everyone who tried these rolls was raving about them, and I'm pretty sure I'll be making them many times in the future!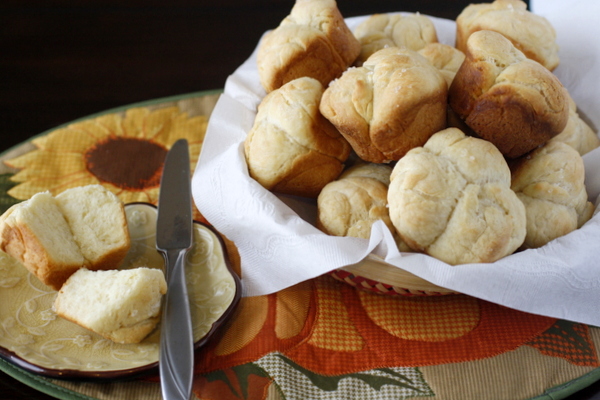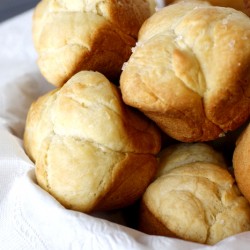 Parker House Rolls with Sea Salt
Ingredients:
1 3/4 cups whole milk, at room temperature
1/3 cup sugar
1 1/4-ounce packet active dry yeast (2 1/4 teaspoons)
2 1/2 sticks unsalted butter (1 1/2 sticks softened, 1 stick melted)
6 1/2 cups all-purpose flour
2 teaspoons fine salt
1 large egg, lightly beaten
Vegetable oil, for brushing
Flaky sea salt, for topping
Directions:
Heat 1/2 cup milk until lukewarm (105 degrees F to 110 degrees F). Pour into the bowl of a stand mixer fitted with the dough hook attachment, sprinkle in the sugar and yeast and let stand until foamy, about 5 minutes. Add the 1 1/2 sticks of softened butter, about half each of the flour and remaining milk, and the fine salt; mix on medium speed until incorporated, about 1 minute. Add the egg and mix until incorporated, then add the remaining flour and milk; knead on medium-high speed until the dough is smooth and pulls away from the bowl, about 5 minutes (it will still be sticky).
Lightly brush a large bowl with vegetable oil and add the dough. Cover with plastic wrap and set aside in a warm place until doubled in size, about 2 hours.
Lightly brush two 12-cup muffin pans with some of the melted butter. Line a baking sheet with parchment paper. Punch down the dough. Tear off about 1 tablespoon of dough and roll into a ball, then put on the prepared baking sheet; repeat with the remaining dough. Dip the dough balls in the remaining melted butter, letting the excess drip off, and arrange 3 balls in each muffin cup to make a clover shape. Cover the pans loosely with plastic wrap and let rise in the refrigerator, at least 8 hours or up to 1 day. Cover and refrigerate the remaining melted butter.
Position racks in the lower and upper thirds of the oven and preheat to 375 degrees F. Remove the muffin pans from the refrigerator, uncover and let stand at room temperature, 1 hour. Sprinkle with sea salt and bake, rotating the pans halfway through, until the rolls are golden, 15 to 20 minutes. Melt the reserved butter, then brush on the hot rolls while still in the pan. Serve or let cool and freeze.
MAKE IT AHEAD Let the rolls cool completely, then freeze in a resealable plastic bag for up to 1 month. To reheat, arrange on a baking sheet, cover with foil and bake at 375 degrees F until warmed through, 25 minutes. Brush with melted butter.
from Food Network Magazine