Candy Cane Fudge
Welcome to day 10 of the 12 Days of Christmas Treats!
I've got a great new fudge recipe for you today. Believe it or not, I hardly ever make fudge. Past recipes I've used have never seemed to turn out quite right. The fudge would either refuse to set, or it would get all clumpy.
Thankfully this candy cane fudge recipe is the exception! This recipe is super simple to make, and it turned out perfecly the first time I tried it. Trust me, if I can make this delicious minty fudge, you can too. 🙂
It's a fairly traditional fudge recipe that makes use of Andes' Peppermint Crunch Baking Chips to make it taste nice and pepperminty. It's smooth and rich and melts in your mouth, just like fudge should. I also love that the fudge is pink, the perfect color for a peppermint flavored treat!
Like most fudge recipes, it's super sweet, so be sure to cut the pieces small. If you're a fan of peppermint flavored treats, you will love this candy cane fudge!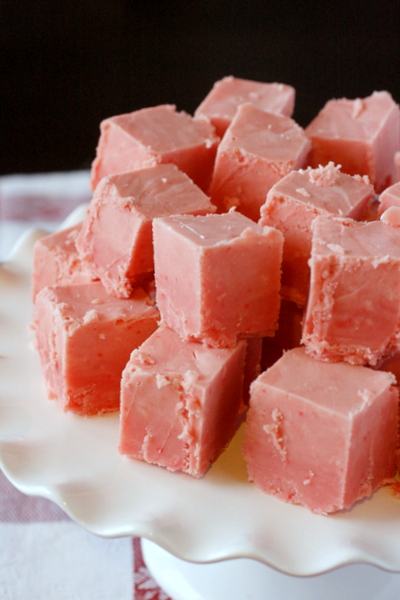 Click here to see the rest of the 12 Days of Christmas Treats 2013. Or you can see all of my Christmas treat recipes from over the years at this Christmas Cookies tag. Enjoy! And, as always, let me know if you try any and how you liked them.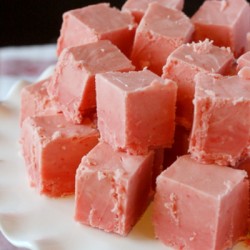 Candy Cane Fudge
Ingredients:
3 cups granulated sugar
3/4 cup (6 oz) butter
2/3 cup evaporated milk
10 ounces peppermint crunch baking chips
7 ounces marshmallow cream
2 tsp vanilla extract
1/2 tsp salt
Directions:
Prepare a 9x9 pan by lining it with aluminum foil and spraying the foil with nonstick cooking spray.
Place the sugar, evaporated milk, and butter in a large saucepan over medium heat and stir until the butter and sugar melt. Continue to cook, stirring frequently, until the mixture starts to boil. Keep the candy at a rolling boil, stirring constantly, for five minutes.
After five minutes, remove it from the heat and add the peppermint crunch chips, stirring until they are melted and the mixture is smooth. Stir in the marshmallow cream, vanilla, and salt.
Once the marshmallow cream has melted and all the ingredients are incorporated, pour the fudge into the prepared pan and smooth it into an even layer. Allow it to set at room temperature for several hours.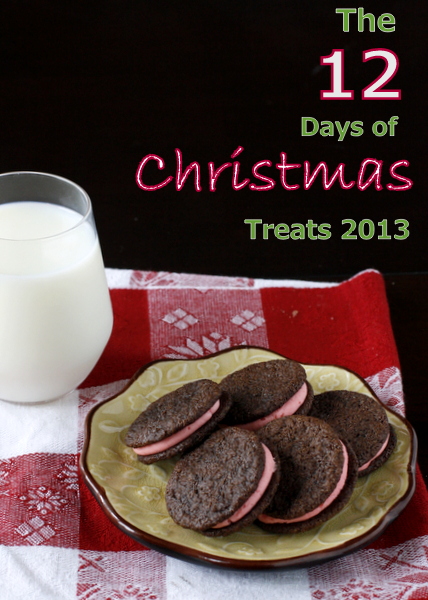 *Amazon links are affiliates