Chocolate Chip Biscotti
Chocolate Chip Biscotti are sweet and crunchy and perfect with a cup of coffee or hot chocolate!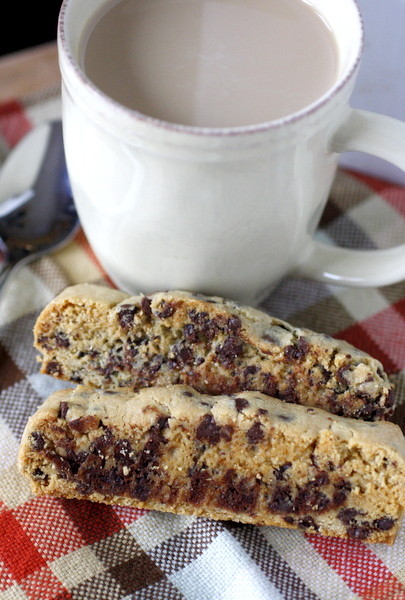 I am so excited to share this chocolate chip biscotti recipe with you! It seems like every year I try a new biscotti recipe, and each one is better than the last! (Except for double chocolate biscotti – that one might be my favorite forever). 🙂
These chocolate chip biscotti are absolutely perfect. They are crunchy on the outside and just a little bit chewy on the inside. (If you are a fan of super crunchy biscotti you can just bake them a little longer on their second bake!)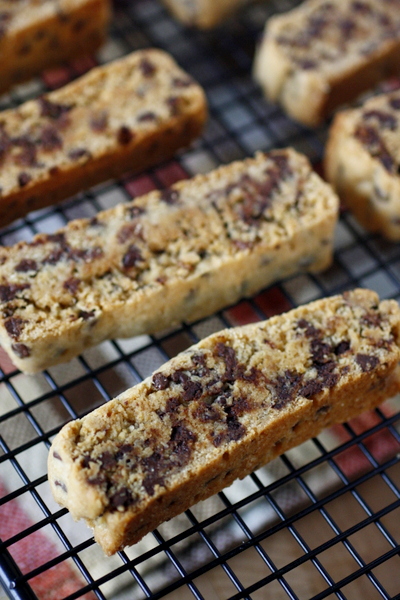 The chocolate chips add just the right amount of chocolate sweetness, and they taste a little bit like a traditional chocolate chip cookie! They pair perfectly with a cup of coffee or hot chocolate, and I've been enjoying one most afternoons with a second cup of coffee. Yes, 2 babies in the house definitely requires extra cookies and extra coffee! 😉
The kids love these as well, thanks to the chocolate. 🙂 Even Mike, who isn't a biscotti fan, says these are good! These cookies freeze well, and I'm definitely going to have to make more because our freezer stash is almost gone.
Enjoy!! 🙂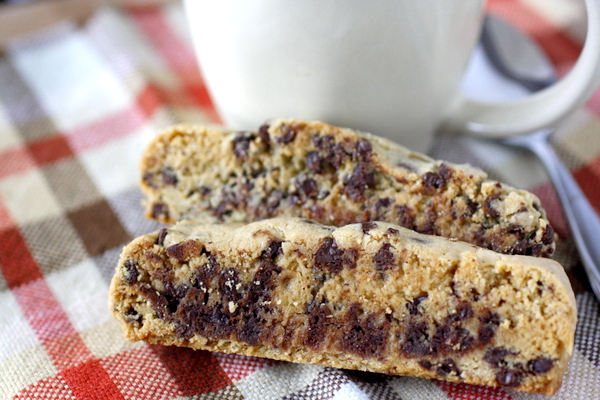 Other biscotti recipes: Chocolate Peppermint Biscotti | Turtle Biscotti | Candy Cane Biscotti | Cinnamon Sugar Biscotti| Double Chocolate Biscotti!
P.S. You can see all of my Christmas treat recipes from over the years at this Christmas Cookies tag. Enjoy! And, as always, let me know if you try any and how you liked them.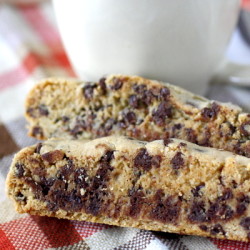 Chocolate Chip Biscotti
Ingredients:
½ cup softened butter
1 cup brown sugar
2 large eggs
1 teaspoons vanilla extract
2½ cups all purpose flour
2 teaspoons baking powder
½ teaspoon salt
12 oz mini chocolate chips
Directions:
Preheat oven to 350 degrees. Line a baking sheet with parchment paper and set aside.
In a large bowl combine the butter and brown sugar. Beat at medium speed 1 minute.
Add eggs and vanilla, mixing until combined, about 1 minute.
Add flour, baking powder and salt, mix until well combined.
Fold in mini chocolate chips.
Shape into 2 10" x 2" logs and place on prepared baking sheet.
Bake 22 to 25 minutes. Remove from oven and allow to cool 30 minutes.
Lower oven temperature to 300 degrees.
Carefully slice logs into about ½ inch slices and place on cookie sheet. Each log will make about 18-20 slices.
Bake 15 minutes. Flip slices over and bake an additional 15 minutes.
Remove to a wire rack to cool. Store in an airtight container.