Chocolate Frosted Brownies
I have waited so long to share these chocolate frosted brownies with you! I made them at the beginning of January to take to a church potluck, but decided not to tempt you to ruin those new year's resolutions so early on. So I saved them for February. 🙂 I figure you all need a good dose of chocolate by now, plus Valentine's Day is coming up – perfect timing!
You will LOVE these brownies. Trust me. The brownies themselves are rich and fudgy and chewy, and the icing on top is sweet and creamy. Combine the two and you have something pretty close to perfection. They are so chocolatey and wonderful. It's a good thing I gave the majority of them away because they are way too addicting to keep in the house. I hope you love these as much as we did. Everyone needs a good chocolate frosted brownie recipe in their arsenal, and I'm pretty sure you can't top this one. 🙂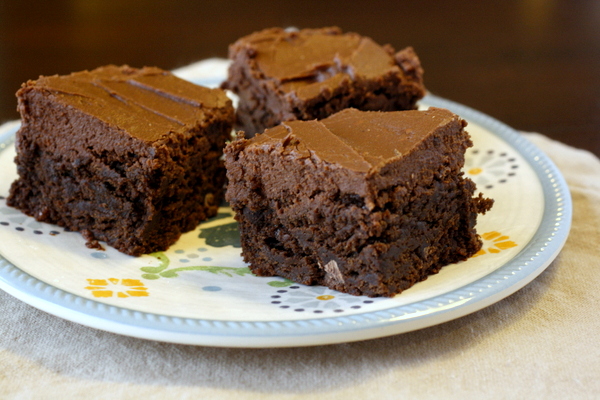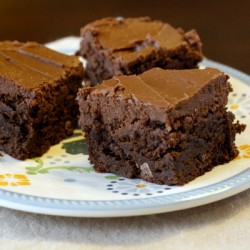 Chocolate Frosted Brownies
Ingredients:
For the Brownies:
1/2 cup butter
3 ounces unsweetened chocolate, chopped
1/2 cup granulated sugar
1/2 cup light brown sugar
2 large eggs
1 tsp vanilla extract
1/2 cup semisweet chocolate chips
3/4 cup all-purpose flour
1 tsp baking powder
1/4 tsp salt
For the Frosting:
6 Tbsp butter, at room temperature
1/4 cup unsweetened cocoa powder
1/8 teaspoon salt
1 1/4 cups powdered sugar
1/2 tsp vanilla extract
3-5 Tbsp milk or cream
Directions:
Preheat the oven to 350 degrees F. Line an 8-inch-square baking dish with foil, letting the excess hang over the edges. Lightly grease the foil and set aside.
Make the brownies:
Combine the chocolate and butter in a large microwave-safe bowl. Microwave for 1-minute increments at 50% power, stirring in between, until the chocolate and butter are melted and smooth. Whisk in the granulated sugar and brown sugar until combined. Whisk in the eggs and the vanilla extract. Stir in the flour, baking powder and salt until combined, then stir in the chocolate chips.
Pour the batter into the prepared pan and bake for 25-30 minutes, until a toothpick inserted in the center comes out clean or with a few moist crumbs. Remove the brownies from the oven and let them cool completely.
Make the frosting:
Using an electric mixer, cream together the butter, cocoa powder, and salt on medium speed for 2-3 minutes. Scrape down the sides of the bowl and add the powdered sugar. Mix on low speed to incorporate the sugar. Add the vanilla and milk, starting with a couple tablespoons and adding more as needed to adjust the consistency. Increase the mixer speed to medium-high, beating until smooth and fluffy.
Spread the frosting onto the cooled brownies. Store the brownies in an airtight container for 3-5 days.