Party Popcorn
How fun is this party popcorn?? I saw this on Pinterest (original recipe comes from She Wears Many Hats) and knew that I had to make it as soon as possible. I made it for a girl's get together a few weeks ago and it was a definite hit.  If you like sweet and salty desserts, then this popcorn is for you. Plus it's so easy to make! You start with plain  popped popcorn, add a little bit of salt, then stir in some melted candy melts until the popcorn is coated. Add in some sprinkles at the end and you've got a delicious and addicting snack.  I used pink candy melts and white sprinkles because that's what I had on hand, but you can use whatever colors you want. Zeke's first birthday(!!) is coming up and I'm going to make another batch for his party in more boy-ish colors. This is such a fun idea for a party, and kids love it as well as adults. I hope you enjoy it!

*Notes: I popped my popcorn using an air popper. We have this
air popper
and love it – it works perfectly! Also, I definitely recommend candy melts over melted white chocolate chips – they are a lot easier to work with. If you're unsure of what they are,
here is a link to them on Amazon
.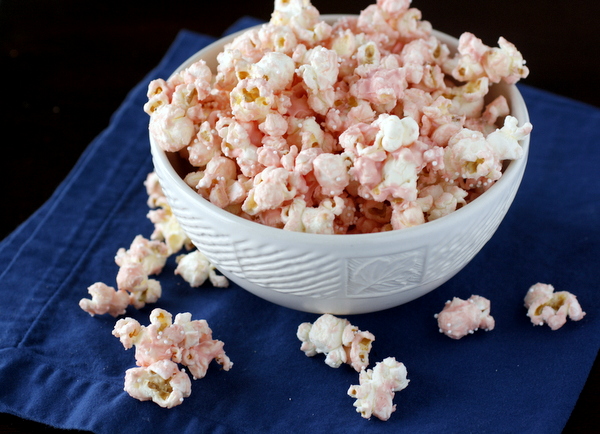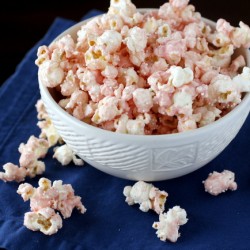 Party Popcorn
Ingredients:
7 ounces candy melts, melted
9 cups popped popcorn, lightly salted (I used an air popper, but you can use a bag of microwave pocorn)
Nonpareils or small sprinkles
Directions:
Place the popcorn in a large bowl or on a large baking sheet. Be careful to sort out the unpopped kernels.
Gently mix in the melted candy melts until well combined. (I used my hands and worked quickly).
Sprinkle the sprinkles on top before the chocolate hardens.
*Amazon links are affiliates*