Oatmeal Chocolate Chip Cake with Cream Cheese Frosting
This oatmeal chocolate chip cake with cream cheese frosting is simple and delicious. It has an almost old-fashioned taste to it, and is dangerously addicting.  I brought this cake to two different gatherings in the past few weeks, and each time it has been warmly received.  Actually, it went over so well the first time I made it that I decided to bring it as my dessert for Easter dinner. I kept telling people, "Oh, it's just an easy simple dessert, nothing special," but everyone loved it! The simplicity of this cake is deceiving. The oatmeal gives the cake that old-fashioned feel and also adds a nice texture to the cake. And of course anytime you add cream cheese frosting, people are sure to love it. Throw in a few handfuls of chocolate chips and a touch of cinnamon, and you have a cake that people can't get enough of. I hope you try this one – everyone is sure to love it.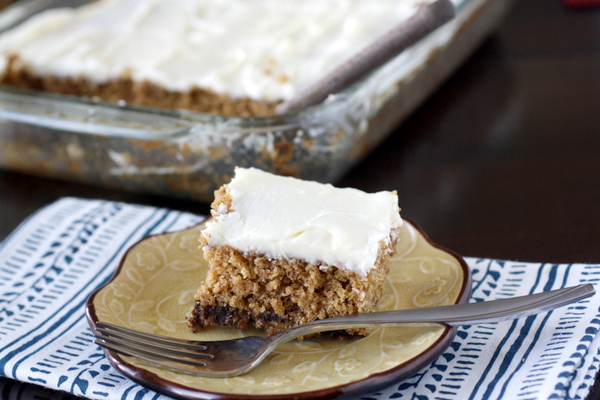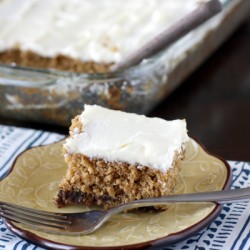 Ingredients:
For the cake:
1 cup chocolate chips
1 1/2 cups plus 2 tablespoons all-purpose Gold Medal flour
1 1/4 cups boiling water
1 cup rolled oats
1/2 cup unsalted butter, cut into small cubes, at room temperature
2 large eggs, slightly beaten
1 teaspoon vanilla extract
3/4 cup granulated sugar
1 1/4 cups packed dark brown sugar
1/2 teaspoon salt
1 teaspoon baking soda
1 teaspoon baking powder
1 1/2 teaspoons ground cinnamon
For the cream cheese frosting:
5 tablespoons unsalted butter, at room temperature
5 ounces cream cheese, softened
2 cups confectioners' sugar, sifted
1 teaspoon vanilla extract
Directions:
Preheat the oven to 375. Grease a 9x13 pan and set aside.
Place the chocolate chips in a small bowl and toss them with 2 Tbsp of the flour. Set aside.
Place the oats and butter cubes in a medium sized bowl. Pour the boiling water over the oat mixture, wait 30 seconds, and stir to moisten all the oats and melt the butter. Let the oat mixtures set for 25 minutes.
In a separate large bowl, whisk together the eggs, vanilla extract, both sugars, salt, baking soda, baking powder, and cinnamon until combined. Fold in the cooled oatmeal mixture and stir until combined. Gently fold in the remaining flour and then the chocolate chips. Pour the batter into the prepared pan.
Bake the cake for 35-40 minutes, or until a toothpick inserted in the center comes out clean. Let cool completely on a wire rack
Make the cream cheese frosting: In a large bowl, beat the butter and cream cheese until smooth and creamy. Add the confectioners' sugar and vanilla and beat until smooth, about 1 minute. Frost the cooled cake and refrigerate until ready to serve.