Fresh Apple Cinnamon Scones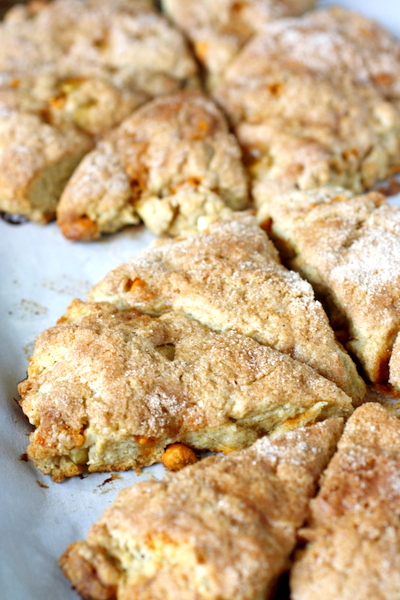 My love for fresh apple baked treats is well documented on this blog (here are my top 15 favorite apple recipes!), and these apple cinnamon scones rank right up there with some of my favorite treats!
After I bought my first bag of apples at our local farmer's market I was looking for a fun new way to bake with apples and ran across this scone recipe.
I tend to think that scones are so complicated to make, but they're really not. They're just like slightly sweetened biscuits. These scones came together in about 20 minutes, and before I knew it we were enjoying fresh scones straight out of the oven. And we loved them!
The apple cinnamon flavor is strong and the chunks of fresh apple add the perfect chewy texture. The scones themselves are light and flaky and sort of melt in your mouth. They're not overly sweet, but you do get an extra dose of sweetness from the crunchy cinnamon sugar topping.
This is definitely a recipe you need to try this fall – they make a great weekend breakfast treat!
p.s. They also taste great served as a dessert with vanilla ice cream on top! 🙂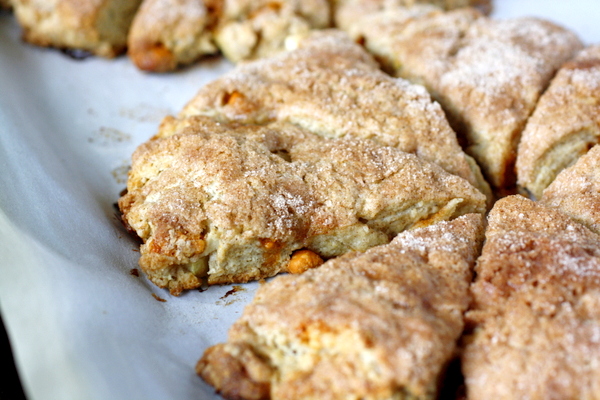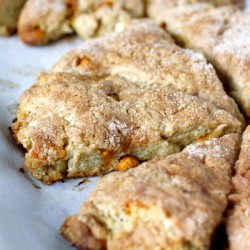 Fresh Apple Cinnamon Scones
Ingredients:
2 3/4 cups All-Purpose Flour
1/3 cup granulated sugar
3/4 tsp salt
1 Tbsp baking powder
1 tsp Apple Pie Spice or ground cinnamon
1/2 cup (8 Tbsp) cold butter
3/4 cup chopped fresh apple, about 1 medium apple
3/4 cup cinnamon chips or butterscotch chips
2 large eggs
1 tsp vanilla extract
1/2 cup unsweetened applesauce
Topping:
3 Tbsp granulated sugar
1/2 tsp ground cinnamon
Directions:
In a large bowl, whisk together the flour, sugar, salt, baking powder, and apple pie spice. Using a pastry blender, work in the butter just until the mixture is crumbly. Stir in the chopped apple and cinnamon chips.
In a separate mixing bowl, whisk together the eggs, vanilla, and applesauce. Add the liquid ingredients to the dry ingredients and stir until moistened and a rough dough forms
Line a baking sheet with parchment paper and sprinkle a little flour on top. Scrape the dough onto the floured parchment and divide it in half. Gently pat and round each half into a 5" to 5 1/2" circle about 3/4" thick.
To make the topping: Stir together the sugar and cinnamon. Brush each circle with milk, and sprinkle with the topping. Run a knife under cold water and slice each circle into 6 wedges. Gently pull the wedges away from the center to separate them so there is about 1/2" space between them. Place the pan in the freezer for 30 minutes, uncovered and preheat the oven to 425.
Bake the scones for 18 to 22 minutes, or until golden brown and baked through. Serve warm. To re-heat room temperature scones, place on a baking sheet, tent lightly with foil, and warm in a preheated 350°F oven for about 10 minutes.
*amazon links are affiliates