Three Cheese Stuffed Shells
How good do these three cheese stuffed shells look? We love Italian food in our house, and I can honestly say these are the best stuffed shells I've ever made. I'm guessing the three cheese part definitely has something to do with that! 🙂 Parmesan and Ricotta are pretty much staples in every stuffed shell recipe, but what really sets this particular recipe apart is the fresh mozzarella. Fresh mozzarella cheese is pretty much guaranteed to make any recipe better, don't you think? You chop it into small pieces, and it adds a wonderful chewy, melty texture to the dish. These stuffed shells are also very freezer friendly! I froze half the recipe, and it was just as delicious as it was the day I made it. I hope you try these and like them as much as we did. 🙂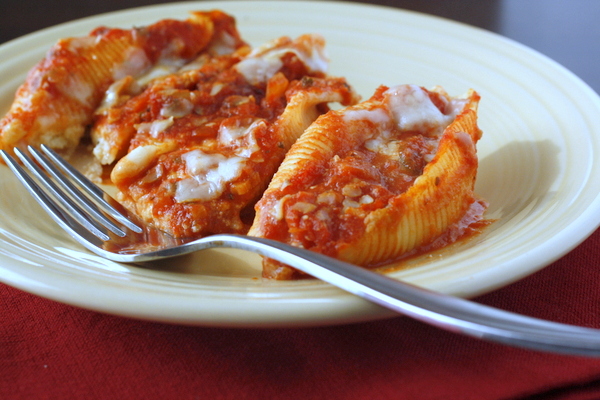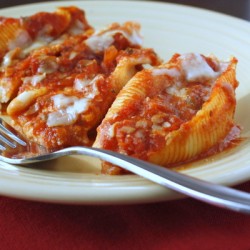 Three Cheese Stuffed Shells
Ingredients:
1 (16 oz) package jumbo pasta shells
3-4 cups spaghetti sauce
2 1/2 cups ricotta cheese
8 oz fresh mozzarella cheese, cut into small pieces
3/4 cup freshly grated Parmesan cheese
1/4 cup fresh basil, chopped
2 eggs, beaten
salt and pepper
1/4 tsp nutmeg
Directions:
Preheat the oven to 350. Lightly oil a 9x13 inch baking pan. Spread a thin layer of sauce over the bottom and set aside.
Cook shells according to package directions, until just barely al dente. Rinse under cold water to stop cooking. Drain.
In a large bowl, mix together the ricotta and mozzarella cheeses, 1/2 cup Parmesan cheese, the basil, eggs, 1/2 tsp salt, 1/4 tsp of pepper and the nutmeg. Fill the shells and place in the prepared baking dish. Top with the rest of the sauce and the remaining Parmesan.
Cover with aluminum foil and bake 35 minutes, or until sauce is bubbling and cheese is golden. Let stand 5-10 minutes before serving.
adapted from Williams Sonoma