Roasted Vegetable Flatbread
I am so excited about this recipe! I actually made it twice over the weekend, that's how much I love it! This roasted vegetable flatbread is definitely one of my new favorite recipes. It starts out with a nice chewy pizza crust rolled just a little bit thinner than traditional pizza. Then you top it with melty mozzarella cheese, freshly roasted vegetables, a sprinkle of Parmesan, and some seasonings. Trust me when I tell you that the end result is completely delicious. I love the complex flavors the roasted vegetables added to the flatbread. Of course I chose my favorite vegetables (broccoli, red pepper, red onion, and mushrooms), but feel free to play around with it and substitute what you like. Serve it with a side salad and this flatbread would make a wonderful dinner, or you can cut the pieces a little smaller and serve it as an appetizer. I have no doubt that you will love this roasted vegetable flatbread as much as we did!
Come join the Fabulous Flatbread Challenge at Rachel Cooks sponsored by United Dairy Industry of Michigan — Win great prizes!  Head on over to Rachel Cooks to read all the details of the challenge, find out what prizes are up for grabs, and link up your fabulous flatbread recipe!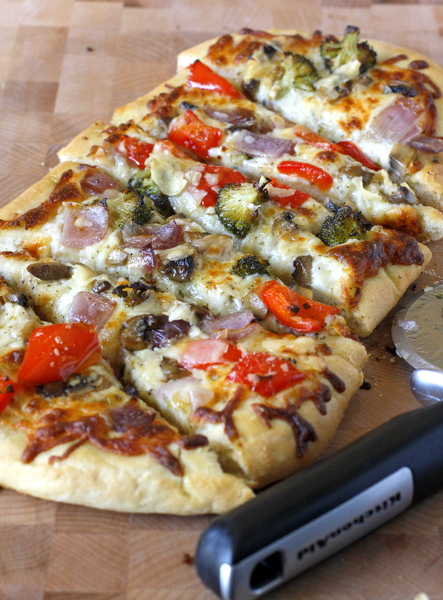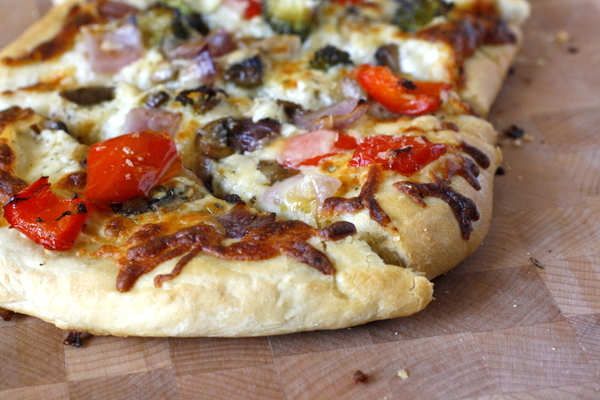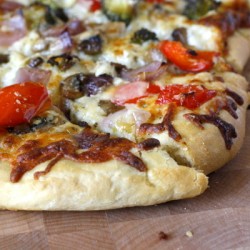 Roasted Vegetable Flatbread
Ingredients:
1/2 red onion
1/2 head of broccoli
1 medium red pepper
8 oz white mushrooms
2 Tbsp olive oil, plus 2 tsp for the flatbreads
1 lb pizza dough (I used half of this recipe), at room temperature
2 cups shredded Mozzarella cheese
2 tsp Italian seasoning
1/2 cup freshly grated Parmesan
Directions:
Preheat oven to 400F. Spray a large baking sheet with non-stick cooking spray and set aside. Chop the vegetables into bite sized pieces and toss with the 2 Tbsp olive oil. Spread the vegetables on the tray and season with salt and pepper. Bake 20 minutes, or until the vegetables are tender. Let cool slightly while you prepare the pizza dough.
Place pizza stone, if using, in the oven and adjust oven temperature to 500F. Divide pizza dough in half. On a lightly floured work surface, roll each half into an oblong shape. Brush the tops with olive oil and sprinkle evenly with mozzarella and Italian seasoning. Scatter roasted vegetables over the cheese and top with the Parmesan. Season liberally with salt and pepper. Transfer to the pre-heated pizza stone, or a baking sheet lined with parchment paper.
Bake, rotating sheet halfway through, until golden, 13-15 minutes. Remove from oven; let cool 5 minutes before cutting into wedges and serving.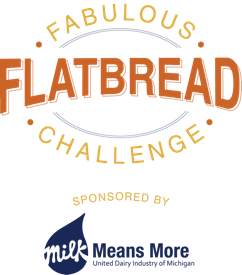 This post was sponsored by the United Dairy Industry of Michigan, but as always, all opinions are my own. I personally love working for UDIM because Milk is a local food, produced by hardworking Michigan farm families. That means cheese, yogurt and other dairy foods are local too! Follow UDIM on Facebook, Pinterest, and Twitter to find out why Milk Means More.