Chocolate Chai Latte
This is the perfect time of year for warm and comforting drinks. It's been negative degrees here for the past week or so and I've really enjoyed the chance to taste test a few batches of this chocolate chai latte. 😉 I was so disappointed when I realized that Starbucks stopped selling their version of chocolate chai, as it had quickly become my favorite drink. So of course I had to try to recreate the recipe on my own. 🙂 I'm not sure how close this is to the original, but I do know that this version is absolutely delicious. Although it's made with chai teabags, this latte doesn't actually taste that much like tea. It's sweet and chocolatey and creamy and spicy all at the same time. It's a little bit like a cross between hot chocolate and chai tea, which sounds kind of strange, but is actually quite delicious. If you're looking for a new drink to curl up with this winter, try this one – it's a new favorite!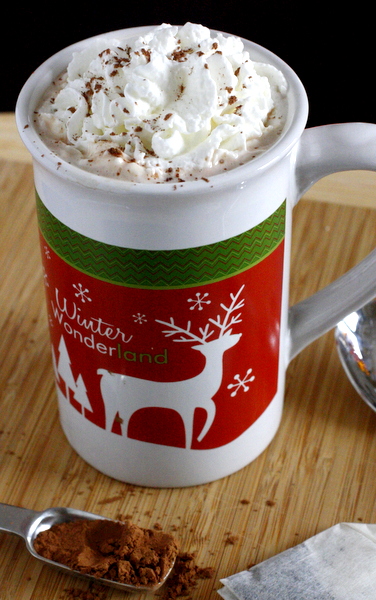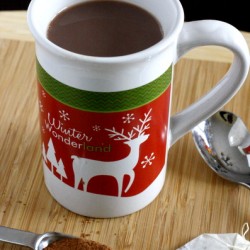 Chocolate Chai Latte
Ingredients:
3 cups water
4 Chai Tea Bags
1 cup milk
1/3 cup sugar
3 Tbsp unsweetened cocoa powder
1 tsp vanilla
Directions:
Boil 3 cups of water. Pour into a large pot, add the tea bags and steep for 5-7 minutes.
Meanwhile, heat the milk, sugar, cocoa powder, and vanilla in a small pot on the stove over medium heat, whisking until the milk is heated and the sugar and cocoa powder are dissolved. Do not allow the milk to boil. Add the milk mixture to the tea and stir to combine.
Remove the teabags and serve hot. Can be easily reheated, but the chocolate mixture tends to settle, so be sure and stir before serving.
*This post was sponsored by the United Dairy Industry of Michigan, but as always, all opinions are my own. I personally love working for UDIM because Milk is a local food, produced by hardworking Michigan farm families. That means cheese, yogurt and other dairy foods are local too! Follow UDIM on Facebook, Pinterest, and Twitter to find out why Milk Means More.