Smoked Cheddar Southwestern Dip
How great does this smoked cheddar southwestern dip look?? I'm rushing to finish this post because I really want you to be able to make this for the Superbowl. 🙂 I actually made this dip for our New Year's Eve get together, and I've been thinking about it ever since. I can't wait to make it again! I don't know if you can tell from the pictures, but this dip is warm and melty and deliciously cheesy.  The smoked cheddar gives it a great flavor and pairs perfectly with the southwestern flavors of the corn, beans, and cilantro. It is so perfect served with salty tortilla chips, and neither Mike nor I could stop eating it. Actually, everyone seemed to really love it, and there was none left after the party. Best of all, it's really easy to make and can be made a day in advance. Just assemble all the ingredients, refrigerate, then bake right before you're planning to serve it. I hope you try this one – it's sure to be a hit!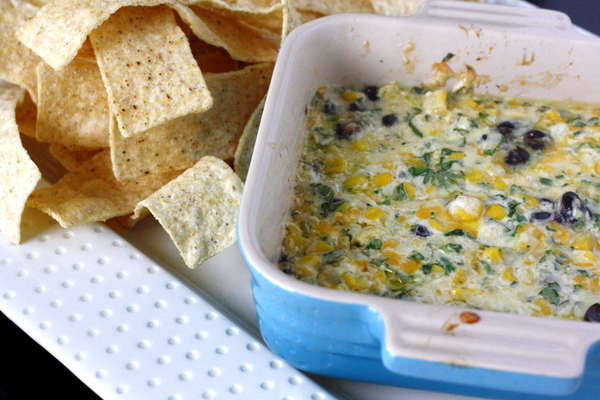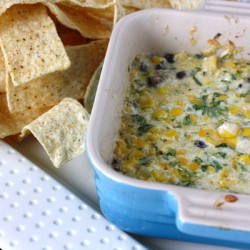 Smoked Cheddar Southwestern Dip
Ingredients:
1 cup Sour Cream
3 green onions, sliced
8 oz Smoked cheddar, grated
4 oz sharp cheddar, grated
1/2 cup cilantro, chopped, or more to taste
1 cup corn, drained
1 cup black beans, drained and rinsed
1 clove garlic, minced
Directions:
Preheat the oven to 350F.
Combine all ingredients into a large bowl and mix gently until well combined. Transfer the contents into a 9" baking dish and bake for 15 minutes, or until cheese is melted and the dip is hot.
Serve with tortilla chips, bread, crackers or raw veggies.
*Note: This can be made ahead and refrigerated. You will have to bake it for longer than 15 minutes. Start with 15 minutes, stir, and continue baking, checking every few minutes until it's warmed through.