Homemade Queso Dip
You are going to love this homemade queso dip! Mike and I both love to eat "chips and cheese" as we call it, but I always feel like the stuff that you buy ready-made from the store is a little too full of processed ingredients for me to truly enjoy it. That's where this homemade version comes in! This queso dip is chock full of real cheese and freshly chopped peppers and onions.  It's easily customizable and, of course, is completely delicious. I used a mixture of sharp cheddar and monterrey cheese, and the outcome was full of flavor. We don't like a ton of spice, so I only used one jalapeno, but feel free to adjust and add in one or two extra if you like a little more heat. This is a great base recipe to serve with chips, or as a topping for Mexican dishes, but it would also be delicious with any number of add-ins. I would love to try stirring in a handful of cilantro, some fresh salsa, or even some cooked ground beef or sausage. No matter how you serve it, this homemade queso dip is sure to be a hit. Enjoy! 🙂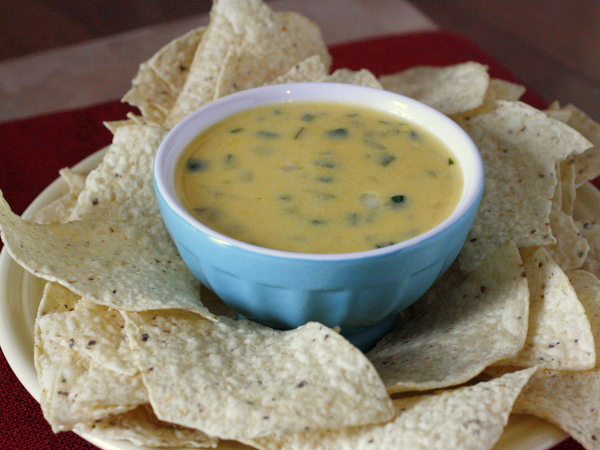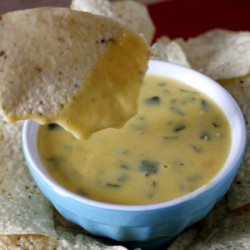 Homemade Queso Dip
Yield: Serves 6
Prep Time: 10 minutes
Cook Time: 15 minutes
Ingredients:
3 Tbsp butter
1 small onion, diced
1 poblano pepper, diced
1-2 jalapeno peppers diced
2 cloves of garlic minced
2 tablespoons flour
1 cup of milk
2 Tbsp chopped pickled jalapenos
1 Tbsp pickled jalapeno juice
16 oz shredded cheese
Salt to taste
Directions:
Melt the butter in a medium sized saucepan on medium low heat. Add the onions and peppers and cook, stirring, five minutes or until onions are soft. Add the garlic and cook for another minute. Whisk in the flour and cook, stirring, for 1 minute.
Slowly add the milk and cook, stirring constantly, until sauce has thickened, about five minutes. Stir in the pickled jalapenos and juice. Turn heat down to low and add in cheese, 1/4 cup at a time, stirring after each addition until cheese is completely melted. Add salt to taste, if necessary.
*You may not want to use all the cheese. Taste as you go, and stop adding cheese when the taste and texture is what you want.
*This post was sponsored by the United Dairy Industry of Michigan, but as always, all opinions are my own. I personally love working for UDIM because Milk is a local food, produced by hardworking Michigan farm families. That means cheese, yogurt and other dairy foods are local too! Follow UDIM on Facebook, Pinterest, YouTube, Instagram, and Twitter to find out why Milk Means More.