Applesauce Spice Cake with Cream Cheese Frosting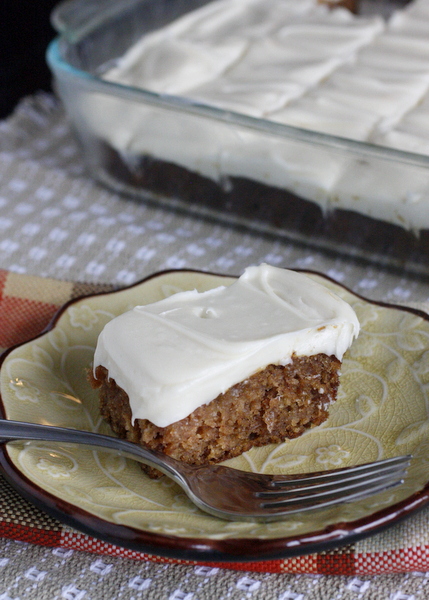 I have a nice easy fall dessert to share with you today! This applesauce spice cake is delicious, and very simple to make. The cake is perfectly light and moist from the applesauce and almost melts in your mouth. I love the flavor of the pumpkin pie spice in this recipe, and the combination of cream cheese icing and fall spices is one of my favorites. I used my homemade crock pot applesauce in this recipe, but feel free to substitute with store bought.  I originally made this recipe for a weekend away at a cottage with Mike's family, and I definitely didn't bring any home with  me. 🙂 If you're looking for a simple cake that tastes like fall, this one is for you.
*p.s. I also think it would be delicious with some chopped apples and walnuts stirred into the cake!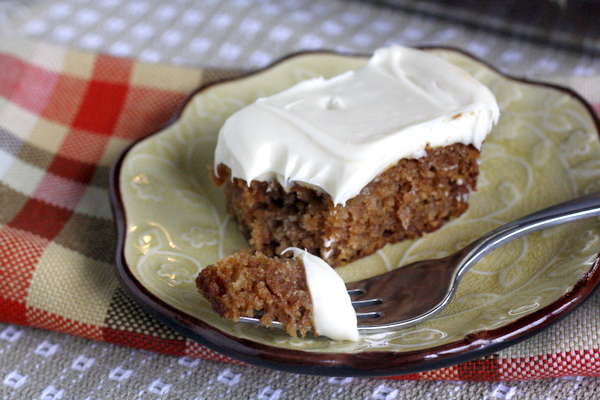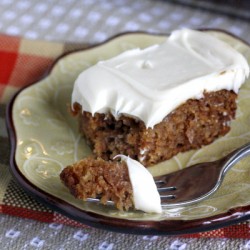 Applesauce Cake with Cream Cheese Frosting
Ingredients:
For the cake:
1/4 cup unsalted butter, softened
2/3 cup packed brown sugar
1 egg, room temperature
1 cup applesauce
1 cup all-purpose flour
1 tsp baking soda
1/2 tsp salt
1 1/2 tsp pumpkin pie spice
For the Frosting:
1 (8-ounce) package cream cheese, softened
1/4 cup unsalted butter, softened
1 cup confectioners' sugar
1 tsp vanilla extract
Directions:
Preheat oven to 350 degrees F. Grease a 8x8 inch baking pan.
Make the cake: In a medium bowl, beat together butter, brown sugar and egg until smooth. Stir in applesauce. In a separate bowl whisk together the flour, baking soda, salt and pumpkin pie spice. Stir into the applesauce mixture until well blended. Spread evenly into the prepared pan. Bake for 25 minutes, or until a toothpick inserted in the center comes out with moist crumbs attached. Remove from oven and cool on a wire rack. Cool completely before frosting.
Make the frosting: In a small bowl, cream together the cream cheese and butter until smooth. Beat in the vanilla, then slowly mix in the confectioners' sugar. Spread over cooled cake before cutting into squares.
*To get cleaner looking slices, you may want to refrigerate the cake before cutting.