Couscous Salad with Corn and Red Bell Pepper
This couscous salad with corn and red pepper is a wonderful late summer salad. I've made this to take to two potlucks so far and barely brought any home with me both times. The salad is quick to make and I love how nice and fresh it tastes.  I love the texture of couscous, and the corn and red bell pepper give the salad a nice sweetness and a little bit of crunch. This is an easy make-ahead dish and can be served warm, cold, or at room temperature – and yes, I've eaten it all three ways. 🙂 It works great as a side dish, but I also think you could add in some leftover rotisserie chicken and make it a light main dish. The salad keeps well in the fridge for a few days, and actually might taste better the second day after giving the flavors a chance to mix together. This recipe only takes about 15 minutes start to finish, which also makes it a good option for a last minute get together you've forgotten about. 😉 All in all, I think you'll love this salad – enjoy!
p.s. If you're making this for a crowd, you'll definitely want to double the recipe!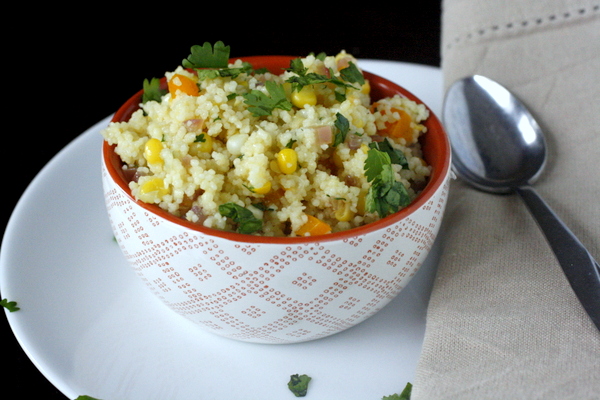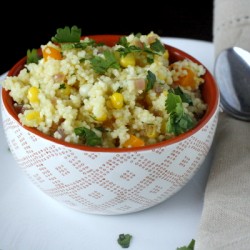 Couscous Salad with Corn and Red Bell Pepper
Yield: Serves 3-4, as a side dish
Ingredients:
2 Tbsp olive oil, divided
1/3 cup finely chopped red onion
1/3 cup finely chopped red bell pepper
1 garlic clove, minced
1/4 teaspoon ground cumin
3/4 cup corn
1 1/4 cups water
2/3 cup uncooked couscous
2 tsp red-wine vinegar
1/4 cup cilantro, finely chopped
Directions:
In a heavy skillet heat 1 Tbsp oil over moderately high heat until hot. Add onion, bell pepper, garlic, cumin, and 1/4 cup water and cook over moderately low heat, stirring occasionally, until bell pepper is crisp-tender. Add in corn and heat until warm.
While vegetables are cooking, in a small heavy saucepan bring remaining cup water to a boil and stir in couscous and salt to taste. Cover pan and remove from heat. Let couscous stand 5 minutes and fluff with a fork.
In a bowl whisk together vinegar, remaining tablespoon oil, and salt to taste until emulsified. Add vegetable mixture, couscous, and cilantro and toss to combine well.