Freezer Friendly Egg Sandwiches
You cannot go wrong with these freezer friendly egg sandwiches! These seriously might be the best things I've ever made – they're that good! They're a little bit of work up front, but since you end up with a little pile of delicious egg sandwiches in your freezer, it seems worth it. 🙂
I've been toying around with the idea of freezable/microwaveable egg sandwiches for awhile now. Mike always says that his breakfast of cereal just doesn't keep him full very long, but we don't have time in the mornings for anything more substantial. That's where these egg sandwiches come in. The wonderful people at the United Dairy Industry of Michigan asked me to come up with a breakfast recipe incorporating dairy, and I figured that was a good excuse to perfect my egg sandwich idea. After all, you can't have a good egg sandwich without cheese (and a little bit of butter!), right? 🙂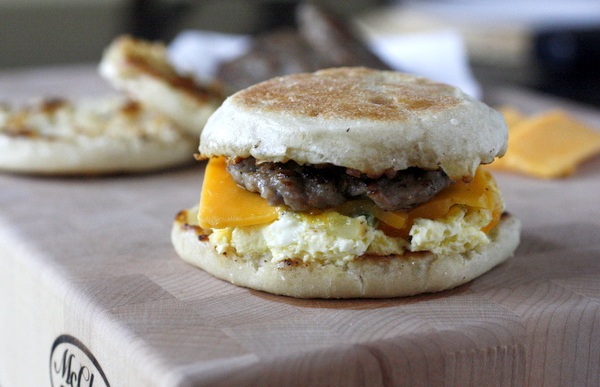 These sandwiches are warm, filling, comforting, and reasonably healthy – perfect for busy mornings on the go! And even better, they are easily adapted to suit your tastes. I made my own breakfast sausage because I wanted to try to keep things as healthy and unprocessed as possible, but if that's not your thing, feel free to use pre-made sausage patties. I also loaded up the egg portion with some lightly sauteed veggies which you can feel free to leave out or adjust to your personal preferences.
The sandwiches are made with fresh sausage, eggs, sharp cheddar (the sharper the better – adds a great burst of flavor!), and lightly buttered and toasted English muffins – it seriously doesn't get much better than this for breakfast! Best of all, wrap them in waxed paper, freeze them, and they are ready to be microwaved on busy mornings. I know you will love these just as much as we do!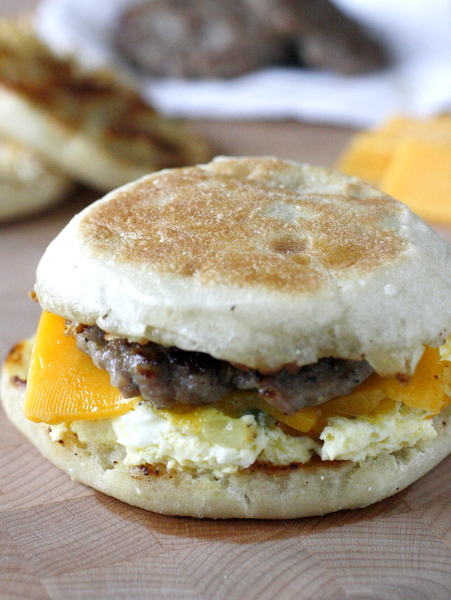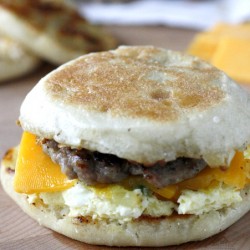 Freezer Friendly Egg Sandwiches
Yield: Makes 8 sandwiches
Prep Time: 30 minutes
Cook Time: 45 minutes
Total Time: 1 hour, 15 minutes
Ingredients:
For the eggs:
1 Tbsp oil
1 cup chopped veggies, your choice (I used bell pepper, onion, and zucchini)
9 eggs
1 3/4 cups milk
1 tsp salt
1/2 cup freshly grated Parmesan
For the sausage:
1 lb ground pork
1 tsp dried sage
1 tsp salt
1/2 tsp black pepper
1 1/2 tsp brown sugar
pinch of dried marjoram
pinch of crushed red pepper flakes
pinch of ground cloves
For the sandwiches:
8 English muffins
4 Tbsp butter, softened
8 oz sharp cheddar cheese, sliced
Directions:
Make the eggs:
Preheat the oven to 375. Lightly grease a 9x13 pan and set aside.
Heat the oil in a small saucepan over medium heat. Add the vegetables and briefly saute, stirring occasionally, until softened. Set aside and let cool slightly.
In a medium sized bowl whisk together the eggs, milk, salt, and Parmesan. Add in the veggies and pour into the prepared pan. Bake 40-45 minutes, or until puffed and golden on top and eggs are cooked through. Let cool slightly.
Make the sausage:
Using your hands, gently mix together all the sausage ingredients in a medium sized bowl.
Form into patties (I separated mine into about 10 patties) and heat your skillet over medium high heat.
Cook 5 minutes per side, or until cooked through and browned on both sides.
Assemble the sandwiches:
Separate the English muffins, Lightly butter them place butter side down on the skillet where you cooked your sausage.
Cook over medium high heat until lightly toasted. Top the bottom halves with cheese.
Using a large biscuit cutter cut rounds out of the pan of eggs to be roughly the same size as the muffins. Place eggs on top of cheese and top with a sausage patty and the top half of the English muffin.
Eat immediately or wrap in waxed paper, place in a freezer bag, and freeze.
To reheat, unwrap a sandwich, wrap in a paper towel, and microwave for 60-90 seconds, until warm.
This post was sponsored by the United Dairy Industry of Michigan, but as always, all opinions are my own. I personally love working for UDIM because Milk is a local food, produced by hardworking Michigan farm families. That means cheese, yogurt and other dairy foods are local too! Follow UDIM on Facebook, Pinterest, YouTube, Instagram, and Twitter to find out why Milk Means More.