Blueberry Buckle with Lemon Glaze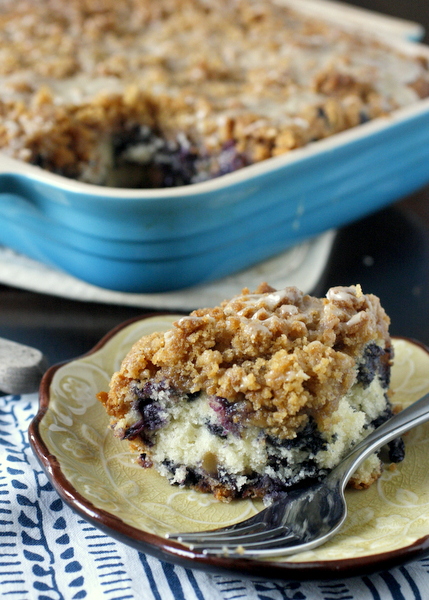 I've got one more blueberry recipe for you to help you finish off summer baking in spectacular fashion! I have made so many blueberry recipes over the past few years, and yet there always seem to be more I want to make. 🙂 When I made this blueberry buckle with lemon glaze, I couldn't believe how good it was! It is rich and buttery and crumbly and absolutely chock full of blueberries. It's basically a single layer cake studded with blueberries and topped with a delicious crumble topping – kind of like a cross between a blueberry muffin and a coffee cake!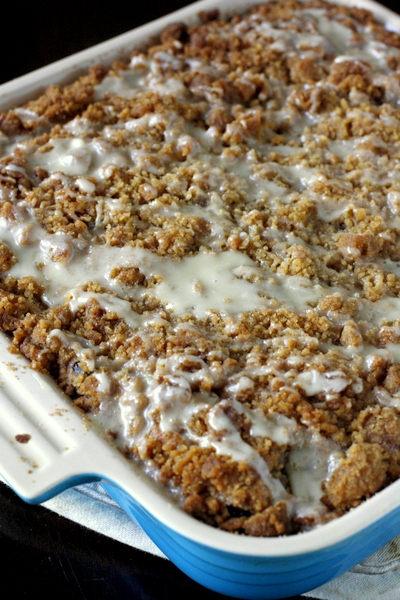 I made this cake with fresh Michigan blueberries that we'd picked a few days earlier, but I'm pretty sure you could use frozen berries with just as much success. If you've got extra blueberries around your house I hope you try this recipe – you will love it!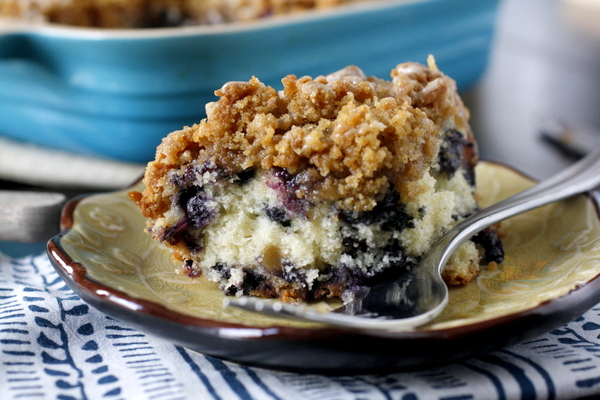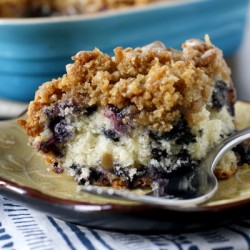 Blueberry Buckle with Lemon Glaze
Yield: Makes 1 9-inch cake
Prep Time: 10 minutes
Cook Time: 50 minutes
Total Time: 1 hour
Ingredients:
For the cake:
1/2 cup (1 stick) unsalted butter, at room temperature
3/4 cup granulated sugar
1 large egg
1/2 cup whole milk
2 teaspoons baking powder
1/2 teaspoon salt
2 cups all-pupose flour
2 1/2 cups fresh blueberries
For the topping:
1 cup firmly packed brown sugar
1 cup all-purpose flour
1 teaspoon ground cinnamon
1/2 cup (1 stick) unsalted butter, cut into pieces at room temperature
For the glaze:
1 cup powdered sugar
Zest of 1 lemon
Juice of 1/2 lemon, add more if needed
1/4 teaspoon vanilla
Directions:
Preheat the oven to 375 degrees F. Lightly spray a 9-inch square baking pan with cooking spray.
In a large bowl, cream together the butter and sugar. Add the egg, milk, baking powder, and salt and beat until mixed well. Mix in half of the flour, then incorporate the remaining half. Gently fold in the blueberries. Pour the batter into the prepared pan and set aside.
To make the topping, combine the brown sugar, flour, cinnamon, and butter in a medium-sized bowl. Mix with a pastry cutter until crumbly. Sprinkle the topping evenly over the cake batter. Bake for 45-50 minutes, or until a toothpick inserted in the center comes out clean. Let Cool completely.
To make the lemon glaze, whisk the powdered sugar with the lemon zest, lemon juice and vanilla. Add more lemon juice if necessary to reach the desired consistency. Drizzle over the cooled cake.