Creamy Christmas Mints
These creamy Christmas mints were certainly a pleasant surprise. I'd never heard of anything like them, and as I was making them I just wasn't sure they were going to turn out as I hoped. I was afraid they would taste like cream cheese and nothing else.
Thankfully, that couldn't be further from the truth.
The mints were sweet and creamy with just the right touch of peppermint.  The mint flavor was very refreshing, and I consider these little treats to be half candy, half after dinner mint. And the texture was perfect – they weren't sticky, but they were still perfectly creamy.
They would be great to set out in a little bowl with your Christmas cookies, and they would make cute little gifts if wrapped up in a nice tin or gift bag.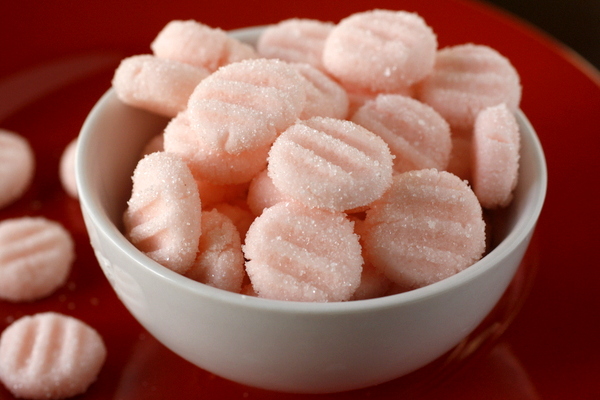 P.S. You can see all of my Christmas treat recipes from over the years at this Christmas Cookies tag. Enjoy! And, as always, let me know if you try any and how you liked them.
Creamy Christmas Mints
Ingredients:
3 oz cream cheese, softened
1/4 teaspoon peppermint extract
red food coloring
4 to 4 1/2 cups confectioners sugar
about 1/4 cup granulated sugar
Directions:
Beat the cream cheese until soft and fluffy, about two minutes.
Blend in the mint and a few drops of red food coloring.
Add the confectioners sugar, 1/2 cup at a time, until it forms a stiff mixture.
Form balls with about 1/2 teaspoon of the mixture.
Roll in the granulated sugar and flatten with the tines of a fork.
Store in the refrigerator.