Cookies and Cream Fudge
Day 9 of the 12 Days of Christmas Treats! I'm pretty sure I try a new fudge recipe every year. I love to experiment with flavors, and in my experience, fudge is something everyone loves to see on a cookie tray. 🙂
This year I'm excited to share this recipe for cookies and cream fudge! The fudge has a deliciously rich white chocolate base and is chock full of oreo cookies. It's smooth and creamy, and just a little bit crunchy from the chopped up oreos.
Mike claims it's the best fudge I've ever made, and I have to agree. Although we both love anything cookies and cream flavored, so we might be a little biased. 🙂
This fudge would make a great holiday gift for friends and neighbors, and also a great treat to munch on straight out of the fridge.
*See all 12 days of Christmas Treats from 2014 here! 🙂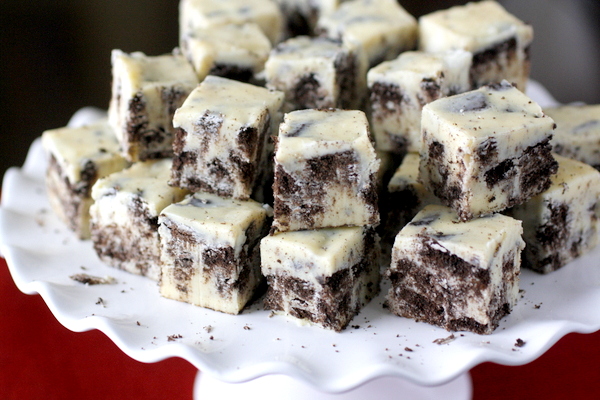 *Check out the delicious treats from previous years!  Cookie Dough Truffles | Nutter Butter Truffles | Salted Caramel Pretzel Bark | White Chocolate Chip Cookies with Peppermint Glaze
P.S. You can see all of my Christmas treat recipes from over the years at this Christmas Cookies tag. Enjoy! And, as always, let me know if you try any and how you liked them.
Cookies and Cream Fudge
Ingredients:
18 oz white chocolate baking squares (I used Ghirardelli)
14-oz can sweetened condensed milk
1/8 tsp salt
3 cups (about 20 cookies) coarsely crushed chocolate cream-filled sandwich cookies (like Oreos)
Directions:
Line an 8-inch square pan with wax paper, extending paper over edges of pan.
Combine the white chocolate, sweetened condensed milk, and salt in a medium sized saucepan. Cook over low heat, stirring frequently, until chocolate is melted and mixture is smooth. Remove from heat and stir in crushed cookies. Spread evenly in prepared pan.
Chill 2 hours, or until firm. Remove from pan by lifting edges of wax paper. Cut into squares. Store tightly covered in the refrigerator. Serve at room temperature.
from the Pittsburgh Post Gazette