Cheeseburger Soup
This might be the fastest turn-around for a blog post I've ever had. I made this soup on Sunday, and it's already on the blog two days later! If you can't tell, that means that this soup is GOOD.
Better than good actually – we absolutely loved it! It is so rich and hearty, and the taste is incredible. It's chock full of vegetables and potatoes, and of course you couldn't have cheeseburger soup without ground beef and cheese!
Mike and I both said this is a new favorite for us, and believe it or not, Zeke gulped it down. My picky (almost) two year old who usually doesn't eat meat or potatoes or carrots ate spoon after spoon of this soup and kept asking for more. If that's not a winning recommendation, I don't know what is. 🙂
Make this soup while it's cold and snowy out – it will warm you up and keep you full. And don't forget the bread, such as these soft dinner rolls or soft pretzel rolls. Yum!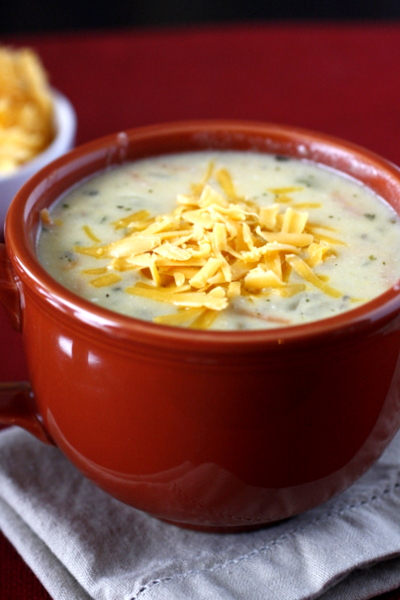 More great tasting soup recipes include this pastina soup, classic chicken noodle soup, and creamy chicken and wild rice soup! 

Cheeseburger Soup
Ingredients:
1 pound ground beef
3/4 cup chopped onion
1 cup shredded carrots
3/4 cup diced celery
1 tsp dried basil
1 tsp dried parsley flakes
4 Tbsp butter, divided
4 cups chicken broth
4 cups peeled and diced potatoes
1/4 cup all purpose flour
3 cups (~12 oz) shredded sharp cheddar cheese
1 1/2 cups milk
1/4 cup sour cream
Directions:
Brown the ground beef in a large skillet. Drain and set aside.
Meanwhile, in a large pot over medium heat, melt 1 Tbsp butter and add onion, shredded carrots, celery, parsley flakes, and basil. Saute until tender. Add the broth and potatoes and bring to a boil. Reduce heat, cover and simmer 10-12 minutes or until potatoes are tender. Add in the cooked ground beef.
In small skillet melt remaining 3 Tbsp of butter and add the flour. Cook and stir for 2-3 minutes or until bubbly. Add to the soup and bring just to a boil. Reduce heat to low and stir in the cheese, milk, and salt and pepper to taste. Continue stirring over low heat until cheese melts. Do not let the soup boil. Remove from heat and stir in sour cream.