Chicken Noodle Soup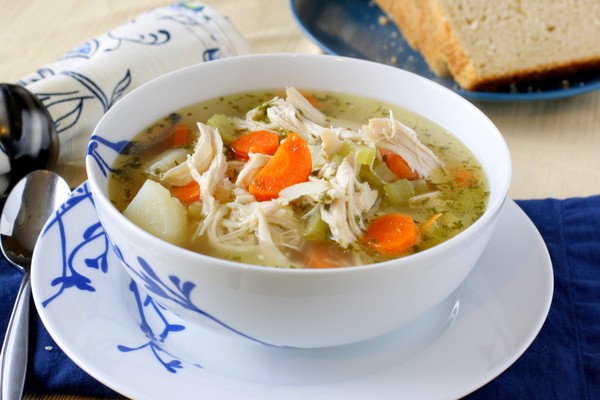 I've got another soup recipe for you, and this one is definitely a classic. It really doesn't get much better than old fashioned chicken noodle soup. This recipe comes from my mom, although if you want to be more precise, it actually comes from my great grandmother! I never knew her, but I do have good memories of my grandma making this recipe when I was little, and I grew up with my mom making it every winter. It's one of the first recipes I asked her to teach me to make when I moved out after college, and I still remember how nervous I was when I made it for the first time by myself. My mom tends to give "ideas" more than recipes, and I am definitely a recipe person. She'll say "Fill the pot with water" and my next question will be: "Exactly how much water do I need?" Let's just say that chicken noodle soup is one of the things that taught me that cooking doesn't always have to be precise.
This is a very forgiving recipe, and it's incredibly easy. There is something so satisfying about starting with a raw chicken and ending up with a steaming pot of delicious soup.  I don't think I've ever had a chicken noodle soup that compares to this one in flavor. It's old fashioned, comforting, simple, and so rewarding.  Not to mention it tastes amazing. If you haven't made chicken noodle soup from scratch before, I recommend you give it a try – I can guarantee it will be worth the effort!
P.S. This meal tastes even better when dipping these soft dinner rolls or soft pretzel rolls or just eating them on the side!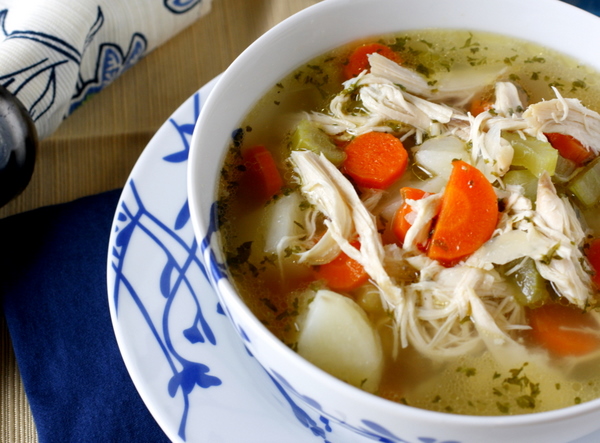 Looking for more recipes ideas? This pastina soup, cheeseburger soup, and creamy chicken and wild rice soup are all excellent!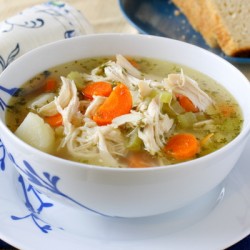 Chicken Noodle Soup
Ingredients:
1 whole chicken, about 3 lbs.
3 carrots, sliced
2 large potatoes, cut into bite sized pieces
2 stalks celery, chopped
salt and pepper
parsley
Noodles (I like to use egg noodles or tiny pasta noodles)
Directions:
Place the chicken in a large pot and fill the pot with cold water until the chicken is just covered. Bring to a boil on the stove. As the water begins to get hot, skim off the film that floats to the top. Once the water reaches a boil, reduce the heat to low, cover, and simmer for 2 hours, or until the chicken is done. The chicken should be falling apart at this point.
Remove the chicken, leaving the broth in the pot, and set on a plate. Once the chicken is cool enough to handle, take the chicken off the bone. Throw away the skin, set the chicken aside, and add the bones back into the pot with the broth. Continue simmering for 1-2 hours.
Remove the bones from the pot (I use my fine mesh strainer to transfer the broth to a large bowl, then pour it back in the pot). Add in the carrots, potatoes, celery, and salt, pepper and parsley to taste. Simmer for 20 minutes, or until the potatoes are done. Add the chicken back in.
In the meantime, in a separate pot, cook the noodles according to the package directions, then drain and serve with the soup.
*Note: I prefer not to cook the noodles in the soup because they tend to eat up the broth, then get mushy when reheated for leftovers.p>