Pumpkin Spice Chai Latte
How good does this pumpkin spice chai latte look?? I can't believe I never thought to combine the flavors of pumpkin spice and chai before, but I'm so glad I did now! I have now made this pumpkin spice chai latte three times in a short period of time so that should tell you how good it is. 🙂 It is creamy and sweet and full of fall flavor from the pumpkin pie spice. I love that it uses real pumpkin, and that you can adjust the sweetness and flavor to your liking. I didn't have whipped cream in the house when I made this and took the pictures, but you better believe that next time I'll be adding a little bit on top. 🙂 We love any sort of chai tea in our house, and this pumpkin spice chai latte is no exception – it's a new family favorite!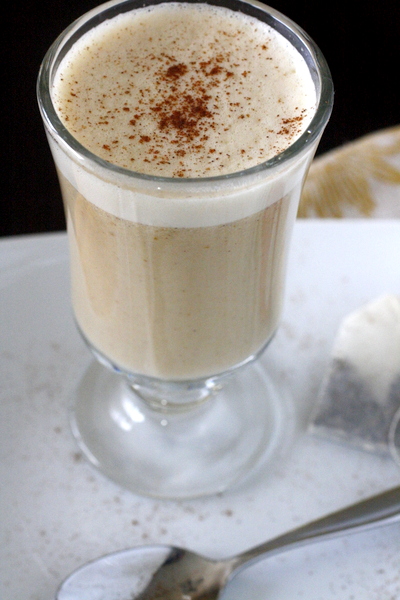 p.s. Looking for more chai? Try my recipes for chai latte, chocolate chai latte, and spiced chai concentrate!
Pumpkin Spice Chai Latte
Ingredients:
1 cup boiling water
2 spiced chai tea bags
1 cup milk
3 Tablespoons pumpkin purée
2 Tablespoons maple syrup
1/2 teaspoon vanilla extract
1 teaspoon pumpkin pie spice
dash salt
1/2 teaspoon cornstarch
Whipped cream for topping *optional
Directions:
In a small measuring cup, add the tea bag to the boiling water, and let it steep for 4-5 minutes.
In a small pot combine the milk, pumpkin purée, maple syrup, vanilla, pumpkin pie spice and salt to the pan. Whisk in the cornstarch and heat until warmed.
Pour the mixture into a blender and blend for a minute or two, until the components are blended together and the drink is nice and creamy. Pour the mixture back into your pan and add the tea.
Gently rewarm on the stove, then pour it into a mug. Top with whipped cream if desired.