Blueberry Buttermilk Cake
This is a great tasting, easy to make cake. As soon as I saw the recipe, I knew I had to make it. Mike and his dad have spent the last couple of days working on our bathroom – tiling the countertop and painting the cabinet. The first day they were working on it, I came home to find out that they had worked from 8:00 – 4:00 with no food! Mike's dad had come straight from the night shift at work, worked all day at our house, and they hadn't even had lunch! I was shocked. So I decided to make this cake as a small "thank you" to Mike's dad (and Mike), and also to make sure they at least had something to eat during the day. Mike loves anything blueberry, and his dad does too, so this seemed like a great recipe to try.
The cake turned out great. I don't normally like blueberry desserts, but this cake was an exception. It's light and fluffy, with a great moist texture. The lemon flavoring pairs perfectly with the blueberries and makes you think of summer. The original recipe called for raspberries instead of blueberries, and I can't wait to try that version. Mike loved it with the blueberries and rated it a 4.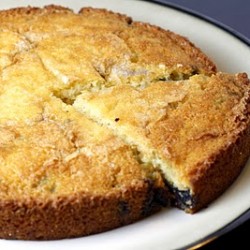 Blueberry Buttermilk Cake
Yield: 1 thin 9-inch cake
Ingredients:
1 cup all-purpose flour
1/2 teaspoon baking powder
1/2 teaspoon baking soda
1/4 teaspoon salt
1/2 stick unsalted butter, softened
2/3 cup plus 1 1/2 tablespoons sugar, divided
1/2 teaspoon pure vanilla extract
1/2 teaspoon finely grated lemon zest (optional)
1 large egg
1/2 cup well-shaken buttermilk
1 cup fresh blueberries
Directions:
Preheat oven to 400°F with rack in middle. Butter and flour a 9-inch round cake pan. Whisk together flour, baking powder, baking soda, and salt and set aside. In a large bowl, beat butter and 2/3 cup sugar with an electric mixer at medium-high speed until pale and fluffy, about two minutes. Beat in vanilla, zest, and the egg.
At low speed, mix in flour mixture in three batches, alternating with buttermilk, beginning and ending with flour, and mixing until just combined. Spoon batter into cake pan, smoothing top. Scatter blueberries evenly over the top and sprinkle with remaining sugar.
Bake until cake is golden and a wooden pick inserted into center comes out with moist crumbs, 20 to 25 minutes. Cool in pan 10 minutes, then turn out onto a rack to finish cooling.