Black Raspberry Muffins
I think these might be my new go-to berry muffin recipe. They are so good!  Thanks to some hard work berry picking with my parents over the summer, I have bags of black raspberries in the freezer that are just begging to be eaten. I love eating them plain or using them in smoothies, but Mike prefers muffins. He absolutely loves blueberry muffins, and my goal was to make black raspberry muffins that he would like just as much. I googled "black raspberry recipes" and tried one of the first recipes I found. They turned out great! I normally don't like berry muffins, but something about the texture of the black raspberries and the flavor of the muffin turned out to be wonderful. This recipe was perfect with black raspberries, but I bet it would be great with blueberries as well.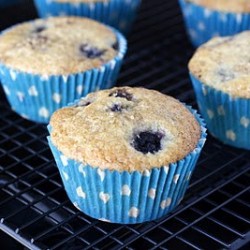 Black Raspberry Muffins
Ingredients:
3/4 stick (6 Tablespoons) unsalted butter
1/3 cup whole milk
1 large egg
1 egg yolk
3/4 teaspoon vanilla extract
1 1/2 cups all-purpose flour
3/4 cup sugar
1 1/2 teaspoons baking powder
3/4 teaspoon salt
1 1/2 cups black raspberries
Directions:
Put a rack in the upper third of oven and preheat to 375 degrees. Generously butter or spray muffin cups, or line with cupcake wrappers. Melt butter in a small saucepan over moderately low heat. Remove from heat and whisk in milk, egg, yolk, and vanilla until well combined.
In a medium bowl, whisk together flour, sugar, baking powder, and salt. Add milk mixture and stir until just combined. Gently but thoroughly fold in the berries.
Divide the batter among muffin cups and spread evenly. Sprinkle generously with turbinado sugar. Bake until golden and crisp and a wooden pick or skewer inserted into the center of a muffin comes out clean, 18-20 minutes.Cool in pan for 15 minutes, then run a knife around edges of muffin tops and carefully remove from cups. Serve hot, warm or at room temperature.