Pumpkin Apple Streusel Muffins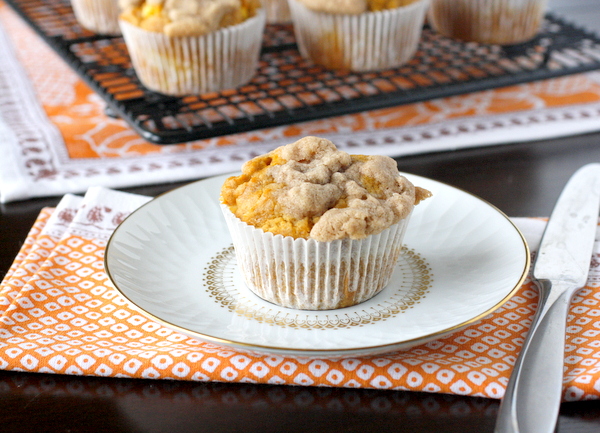 You had to know it would be coming. I mean, I've made apple bread, apple streusel bread, pumpkin bread, pumpkin gingerbread, etc. It was only a matter of time before I combined my two favorite Fall baking staples (apples and pumpkin) into one amazing muffin. These pumpkin apple streusel muffins offer the best of both worlds. They are moist and tender from the pumpkin, and they're full of chopped apples. Tying both flavors together is a generous amount of cinnamon and nutmeg. In short, they taste great. Mike loved them, and so did everyone I shared them with. These are a must-make for Fall – pumpkin and apple together is a great combination. 🙂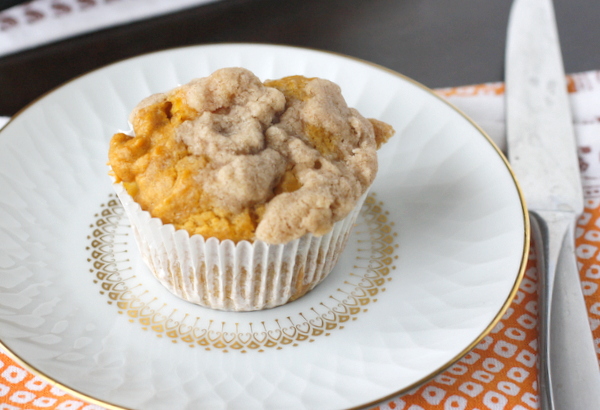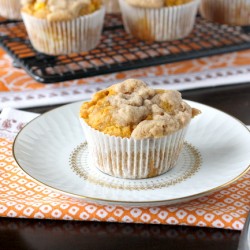 Pumpkin Apple Streusel Muffins
Ingredients:
1 3/4 cups all-purpose flour
3/4 cup granulated sugar
1/2 tsp baking soda
1/2 tsp cinnamon
1/4 tsp nutmeg
1/2 tsp salt
1 large egg
1 cup (9 1/2 oz) canned pumpkin
1 Tbsp apple juice concentrate (or boiled cider)
1/4 cup vegetable oil
1 1/2 cups peeled and chopped apples
Streusel
1/4 cup all-purpose flour, plus enough more to make it crumbly
3 Tbsp sugar
1/2 tsp cinnamon
3 Tbsp unsalted butter, melted
pinch of salt
Directions:
Preheat the oven to 375. Line a muffin tin with paper liners.
In a large bowl, whisk together the flour, sugar, baking soda, spices and salt. In another bowl, whisk together the eggs, pumpkin, apple juice concentrate, and oil. Add to the flour mixture and stir until smooth. Stir in the apples. Scoop the batter into the prepared pan, filling each cup 3/4 full.
For the streusel: In a small bowl combine the ingredients and mix with your fingers until crumbly. You may have to add a little extra flour to make it workable. Mine was still too soft to crumble very well, but I did the best I could without adding too much flour. After baking, you won't be able to tell. 🙂
Bake for 20-25 minutes, or until a toothpick inserted in a center muffin comes out clean. Remove from the oven and cool in the pan for 5 minutes before transferring to a cooling rack to cool completely.
from the King Arthur Flour Baking Sheet, Autumn 2012