Honey Beer Bread
We had one lone bottle of beer in the refrigerator. Leftover from who knows when…possibly from when we moved into our house. Neither of us are big beer drinkers, and I've been slowly using up our small suppy on a variety of beer bread recipes. I'm glad I found this recipe for the last bottle, because it was the best yet. Soft and slightly sweet, with a crispy buttery crust. It was great hot out of the oven last night – perfect for a late night snack. But it might have been even better for lunch today – toasted, with a little extra butter. Good enough for Mike to rate it a 3.75. This is my new go-to beer bread recipe. Good enough that I might even buy beer solely for the purpose of making this bread.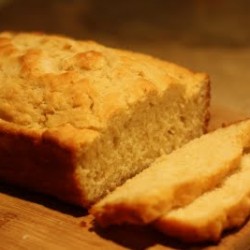 Honey Beer Bread
Ingredients:
3 cups all-purpose flour
2 Tbsp. sugar
1 Tbsp. baking powder
1 tsp. salt
2 Tbsp. honey
1 bottle (12 ounces) beer
4 Tbsp. (half stick) butter, melted
Directions:
Preheat the oven to 350 degrees F. Grease a 9″ x 5″ x 3″ inch loaf pan.
In a medium bowl, whisk together the flour, sugar, baking powder and salt. Using a wooden spoon, stir the beer and honey into the dry ingredients until just mixed. Pour half the melted butter into the loaf pan. Then spoon the batter into the pan, and pour the rest of the butter on top of the batter. Bake for 50 to 60 minutes, until top is golden brown and a toothpick inserted in the middle comes out clean. Makes 1 loaf. Best if served immediately, although leftovers taste great toasted!