Peppermint Patties
Day 8 of the 12 days of Christmas Treats!
One thing I love to do in the kitchen is to create homemade versions of store-bought treats. It's probably why I love homemade oreos and homemade hostess cupcakes so much. Naturally, when I saw a recipe for homemade peppermint patties, I knew I had to make them.
These make a fun and unique addition to your Christmas candy bowl, and trust me, people will be impressed that you made these yourself. No need to tell them how easy they are to make!
Clearly some turned out prettier than others…
Good quality chocolate is what makes these stand out. I used Ghirardelli 60% bittersweet chocolate and they were incredible. There is so much more depth of flavor than in a traditional peppermint patty. Plus, the chocolate coating is thicker, and you can't really go wrong with more chocolate.
I took these to work when I first made them and they disappeared pretty quickly, with plenty of people asking for the recipe. I almost didn't want to give it out because then everyone would know how simple they are to make!
Give these a try this Christmas season and I guarantee your friends and family will be impressed. 🙂
*Note: I would recommend a shot glass for cutting out your circles. This keeps them nice and small and easy to dip. Also, make sure your chocolate isn't too warm or the filling will start to melt.
P.S. You can see all of my Christmas treat recipes from over the years at this Christmas Cookies tag. Enjoy! And, as always, let me know if you try any and how you liked them.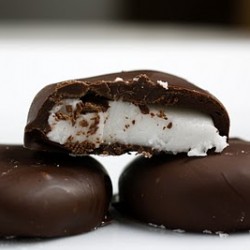 Homemade Peppermint Patties
Ingredients:
2 1/4 cups confectioners sugar
1 1/2 tablespoons light corn syrup
1 1/2 tablespoons water
1/2 teaspoon pure peppermint extract
1 T shortening
1/4 cup confectioner's sugar, for kneading and rolling
10 ounces 70%-cacao bittersweet chocolate, coarsely chopped
Directions:
Beat 2 1/4 cups confectioners sugar with corn syrup, water, peppermint extract, shortening, and a pinch of salt using an electric mixer (with paddle attachment if using a stand mixer) at medium speed until just combined.
Knead on a work surface dusted with remaining 1/4 cup confectioners sugar until smooth. Roll out between sheets of parchment paper on a large baking sheet into a 7- to 8-inch round (about 1/4 inch thick).
Freeze until firm, about 15 minutes. Remove top sheet of paper and sprinkle round with confectioners sugar. Replace top sheet, then flip round over and repeat sprinkling on other side.
Cut out as many rounds as possible with cutter, transferring to a parchment-lined baking sheet. Freeze until firm, at least 10 minutes. Meanwhile, gather scraps, reroll, and freeze, then cut out more rounds, freezing them.
To make chocolate coating:
Melt three fourths of chocolate in a metal bowl set over a saucepan of barely simmering water. Remove bowl from pan and add remaining chocolate, stirring until smooth. Cool until thermometer inserted at least 1/2 inch into chocolate registers 80°F.
Return water in pan to a boil and remove from heat. Set bowl with cooled chocolate over pan and reheat, stirring, until thermometer registers 88 to 91°F. Remove bowl from pan.
Balance 1 peppermint round on a fork and submerge in melted chocolate, letting excess drip off and scraping back of fork against rim of bowl if necessary, then return patty to sheet. Coat remaining rounds, rewarming chocolate to 88 to 91°F as necessary. Let patties stand until chocolate is set, about 1 hour.
Click here to see the rest of the 12 Days of Christmas Treats