Margarita Mac and Cheese
I have great memories of macaroni and cheese. As a kid, most of the time my mom served me the Kraft variety (which I still love…shh…), but on special occasions, my mom went all out and made homemade baked macaroni and cheese.  The recipe came from an old Betty Crocker cookbook and is still one of my favorite dishes that my mom makes. When I got married and moved out, my mom actually searched ebay to buy me the exact same Betty Crocker cookbook that she always cooked from, and macaroni and cheese was the very first recipe I made.
Of course, even the best recipes can be made just a little bit better. One of my husband's favorite meals is margarita pizza – a thin crust pizza with tomatoes, basil and mozzarella cheese. We have it at least once a week when tomatoes are in season. The idea of combining the two recipes appealed to me – maragarita macaroni and cheese? Yum!
Of course I started with my beloved Betty Crocker recipe, but with a few alterations. I added some extra ingredients to give it a margarita pizza flavor, and played around with the best way to prepare it. The end result was warm cheesy macaroni combined with the wonderful flavors of tomato, basil and mozzarella. It was absolutely delicious. My husband agreed and proceeded to eat multiple servings. I think it's safe to say that this recipe ranks right up there with my traditional favorite.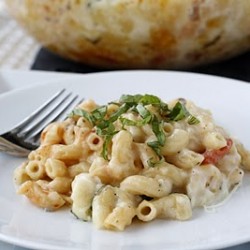 Margarita Mac and Cheese
Ingredients:
6 to 7 ounces elbow macaroni
1 tsp salt
1/4 tsp pepper
1 tsp dried basil (or 1 Tbsp chopped fresh basil, plus extra for serving)
2-3 cups mozzarella cheese
1 can diced tomatoes, drained.
For sauce:
2 Tbsp olive oil
1 clove of garlic, minced
1 Tbsp flour
1/2 tsp salt
1/4 tsp pepper
2 cups milk
Directions:
Pre-heat oven to 375. Cook macaroni as directed on the package. While macaroni is cooking, prepare the sauce.
Heat olive oil in a medium saucepan over low heat. Add garlic and cook 1-2 minutes, or until garlic is fragrant. Whisk in flour, salt and pepper and cook over low heat, stirring until mixture is smooth and bubbly. Remove from heat and stir in milk. Heat to boiling, stirring constantly. Boil and stir one minute. Set aside.
Drain pasta and mix with the drained diced tomatoes. Place half of the macaroni in an ungreased 2-quart casserole dish. Sprinkle with half the salt, pepper, basil and cheese. Repeat with remaining macaroni, salt, pepper, basil and cheese. Pour sauce over macaroni. Cover and bake for 30 minutes. Uncover and bake 15 minutes longer. Serve with fresh basil.
adapted from Betty Crocker
I was asked to create a recipe for the 30 Days 30 Ways with Macaroni and Cheese blog with my own twist on macaroni and cheese. I was compensated for my ingredients and time, but all opinions are my own.