Turkey Burgers
A couple weeks ago we had a warm spell that made me think that Spring truly was on the way. I started to crave summer foods, and in looking through a new cookbook I received, these turkey burgers jumped out at me. The picture in the cookbook made them look so juicy and tender that I couldn't resist.  I don't think I've actually ever had a turkey burger before, but in my limited experience, this is what a turkey burger should taste like!
I don't know if my pictures are doing them justice, but these burgers made for a delicious and satisfying dinner. They're full of flavor and incredibly juicy, and Mike loved them just as much as I did. The burgers are seared on the stove to produce a browned and flavorful crust, then finished up in the oven – perfect for when it's still too cold to fire up the grill! They didn't take long to make and I was able to freeze half of them, uncooked, for a future quick meal. If you're looking for a delicious weeknight meal with the taste of summer, give these turkey burgers a try!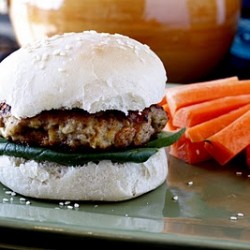 Turkey Burgers
Ingredients:
1/4 cup panko bread crumbs
1 Tbsp milk
1 pound ground turkey (7 percent fat)
1/2 cup grated sharp cheddar cheese
1/4 cup thinly sliced scallions (about 2 scallions)
3 Tbsp Dijon mustard
Kosher salt and freshly ground black pepper
2 Tbsp olive oil
4 hamburger buns, split
Directions:
Preheat the oven to 395 degrees. In a large mixing bowl combine the bread crumbs and milk until all the milk has been absorbed. Add the ground turkey, cheese, scallions and mustard. Season with salt and pepper. Gently mix together by hand until combined, being careful not to over-handle the meat. Divide and shape the mixture into 4 patties.
In a large ovenproof skillet over medium-high heat, warm the oil until a few droplets of water sizzle when carefully sprinkled in the skillet. Cook the turkey burgers until well-browned on both sides, about 3 minutes per side. Transfer the skillet to the oven and cook until the turkey burgers are cooked through and no longer pink in the middle, about 10 minutes.
To serve, toast the buns. Place each burger inside a bun and garnish as desired. Serve immediately.
*Burgers can be formed, tightly wrapped and refrigerated for up to 24 hours in advance. Uncooked patties can also be frozen, individually wrapped in plastic wrap and placed in a freezer bag.
Note: I received the cookbook Simply Suppers from Thomas Nelson to review. I was not compensated for this post and all opinions are my own.