White Chocolate Lemon Truffles
Are you tired of desserts yet? I hope not because this one I'm sharing with you today is one of my new obsessions. I love making truffles, and when I saw a truffle recipe combining white chocolate and lemon, I knew it had to go on my springtime menu. 
I'm always surprised by how simple truffles are to make – the combination of cream, chocolate, and some sort of flavoring can produce a very elegant dessert. These white chocolate lemon truffles are deliciously sweet and creamy with a pronounced lemon flavor. They have a melt-in-your-mouth texture, and the addition of the sugar coating gives a nice texture contrast. Mike and I both loved these, and we actually haven't shared with anyone else yet – we're hoarding them in our freezer. 🙂 If you're looking for something a little more sophisticated for Easter (or any Spring occasion), give these a try – they'll make a beautiful addition to your dessert table!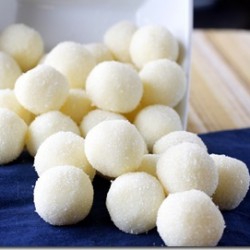 White Chocolate Lemon Truffles
Ingredients:
1/3 cup plus 1 Tbsp. heavy cream
Grated zest of 1 lemon
9 ounces good quality white chocolate, finely chopped
pinch of salt
1/4 cup (1/2 stick) unsalted butter, cut into thin slices
2 tsp. freshly-squeezed, strained lemon juice
Granulated Sugar, for coating
Directions:
In small, heavy, non-aluminum saucepan, combine the heavy cream and lemon zest. Over low heat, heat until cream comes to a simmer, stirring occasionally. Remove from heat, cover tightly and let sit for 20 minutes.
Combine the white chocolate, salt, and butter in medium heatproof bowl. Remove the cover from the cream and reheat over low heat, stirring occasionally, until it reaches a simmer. Remove from heat. Strain through fine-meshed strainer into white chocolate mixture. Press down on the lemon zest left in the strainer to extract all the liquid from it.
Place white chocolate mixture over a pot of warm water on low heat (water should not touch bottom of bowl). Stir the chocolate frequently just until almost melted. Remove the bowl from the warm pot. Stir until the chocolate is melted and smooth. (Note: White chocolate can be difficult when melting. If there are small lumps of white chocolate use a food processor and process the mixture at high speed just until smooth.) Stir in lemon juice. Transfer the mixture to a small bowl. Chill at least 4 hours, covering tightly when cold.
To make truffles: Using a small cookie scoop or a spoon, form balls of about 1 inch diameter from the cold truffle base. Roll in sugar until well-coated. (If you're having trouble, drop the small spoonful of white chocolate into the sugar, using the sugar to help roll it into a ball. Once a ball is formed, re-roll it in the sugar until coated.) Store truffles airtight in refrigerator for up to one week or freeze for longer storage. To serve, remove from refrigerator 15 to 20 minutes prior to serving time. Let stand at room temperature, covered, until serving time.