Broccoli Salad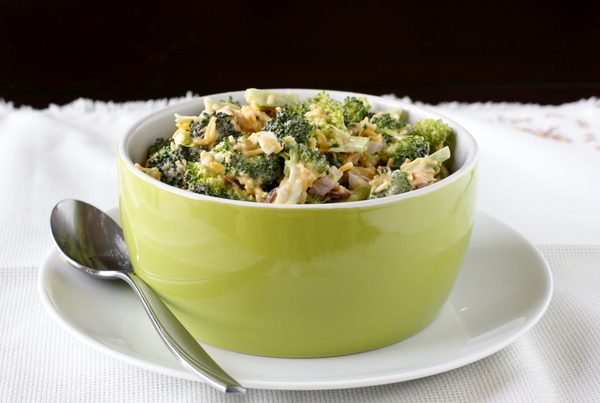 I've had this broccoli salad recipe for years, and I'm not sure how it's never made it on the blog before now.  I'm not even sure where I got the recipe from at this point, but I do remember making it over and over when I first found it. It was my first year out of college and I was just learning to like cooking. This was one of my favorite recipes to make for get togethers. It's very easy to make, takes relatively few ingredients, and it's perfect for potlucks and picnics.  Everyone always loved this recipe, and I felt like a gourmet cook, when really all I'd done was chop and mix – perfect! If I was on top of things, I would have shared this recipe before Labor Day so you could make it for your cook-out, sorry for the bad timing!  According to my CSA, however, broccoli is still in season around here, so there's still time to give this recipe a try! 🙂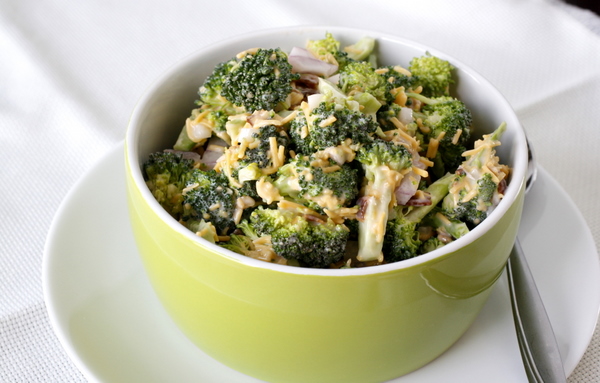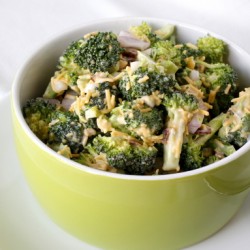 Broccoli Salad
Ingredients:
1 head of broccoli - chopped into small florets
1/2 red onion - diced
8 pieces of bacon, fried crisp and broken into pieces
1 1/2 cups shredded cheddar cheese
2/3 cups mayonaise
1/4 cup red wine vinegar
1/8 cup granulated sugar
Directions:
In a large bowl combine the broccoli, red onion, bacon and cheese. In a separate bowl whisk together the mayonnaise, vinegar and sugar until well blended. Add the mayonnaise mixture to the broccoli mixture and stir well. Refrigerate until ready to serve.