Chicken Corn Chili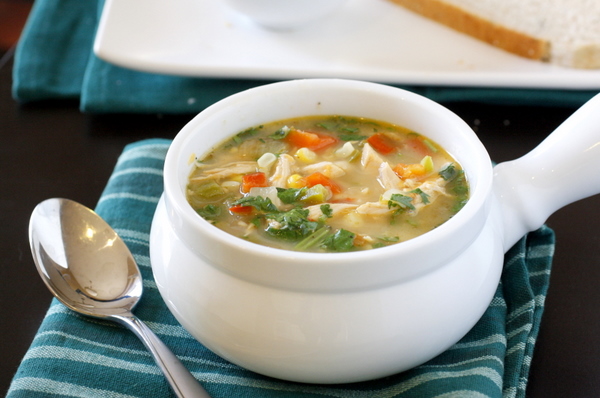 I realize I rave about most things I post on this site (why post about it if I didn't love it, right?), but you really need to make this as soon as possible.  I made this recipe on a whim after seeing it in my Food Network Magazine and finding a variety of peppers on sale for $.50 at the farmer's market.  It was so good that I made it again two days later.  The combination of the slightly spicy pepper (I used an anaheim pepper, but feel free to use a jalapeno if you want more heat!), sweet corn and fresh cilantro works together perfectly. Thanks to a white bean puree, the chili is creamy and comforting, yet the cilantro makes it taste fresh and different.  All of this adds up to a chili that I can't stop thinking about. If you're familiar with this site, you know I swear by my chipotle turkey chili recipe, but honestly this new recipe has taken over the role of favorite chili. It's just so unique! Give it a try this weekend and let me know what you think. 🙂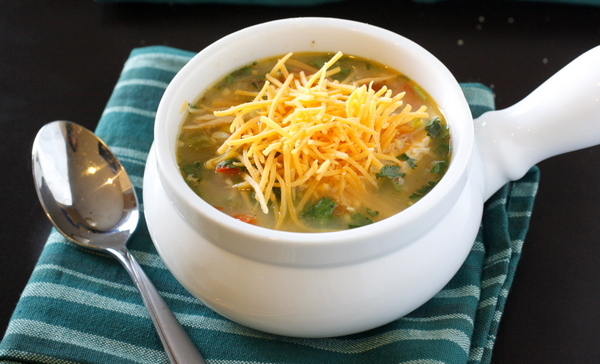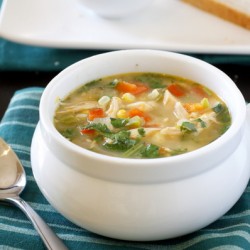 Chicken Corn Chili
Ingredients:
1 tablespoon extra-virgin olive oil
1 small onion, chopped
2 cloves garlic, minced
1 anaheim or jalapeno pepper, seeded and diced
1 red bell pepper, seeded and chopped
1 teaspoon ground cumin
3 cups low-sodium chicken broth
2 cups shredded rotisserie chicken
2 15-ounce cans large white beans (1 undrained; 1 drained and rinsed)
1 cup frozen corn
1/2 cup chopped fresh cilantro
1 cup shredded sharp cheddar cheese
Directions:
Using a food processor or immersion blender, puree the can of undrained beans until creamy. Add some chicken broth if you need extra liquid for them to blend smoothly. Set aside.
Heat the olive oil in a large pot over medium heat. Add the onion and cook, stirring, until slightly soft, about 3 minutes. Add the garlic, chopped peppers and cumin and cook, stirring, until the cumin is toasted, about 2 minutes. Stir in the chicken broth, chicken, remaining can of beans (drained and rinsed), and bean puree. Bring to a boil, then reduce the heat to medium low and simmer, stirring occasionally, until thickened, about 15 minutes.
Stir in the corn, cilantro and 1/2 cup cheese, heating until corn is hot and cheese is melted. Divide the chili among bowls and top with the remaining 1/2 cup cheese.
adapted from Food Network Magazine