Glazed Apple Cinnamon Bread
This glazed apple cinnamon bread is hard to resist!  It's sweet enough to be considered dessert, but it's shaped like a loaf of bread, which helps you justify eating multiple pieces throughout the day. (Confession: I tried to tell Mike it was cake and that we probably shouldn't eat it for breakfast. He countered that it was just bread with a glaze and was therefore perfectly acceptable for breakfast or anytime. He won.)  The bread is dense and sweet and filled with fresh chopped apples and plenty of cinnamon. It was delicious on it's own, but the glaze on top was just the icing on the cake bread. The house smelled amazing while the bread was baking, and the end result was so good that I'm embarrassed to tell you how quickly we ate it. Let's just say it didn't last long. I'm a big fan of pretty much anything with apples and cinnamon, but this bread is definitely one of my new favorite treats for Fall!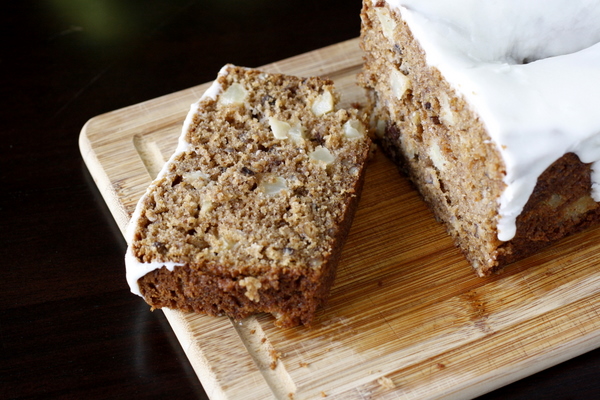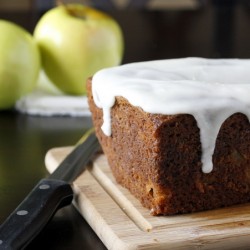 Glazed Apple Cinnamon Bread
Yield: Makes 2 9x5 loaves of bread
Ingredients:
For the bread:
1 1/4 c. unsalted butter, softened
2 1/2 c. dark brown sugar, packed
4 large eggs
3 3/4 c. all-purpose flour
1 1/4 tsp. salt
2 1/2 tsp. baking soda
1 1/4 c. Greek yogurt
2 tbsp. cinnamon, ground
1/2 tsp nutmeg, ground
1 1/2 c. pecans, whole
2 large apples, peeled and diced
For the glaze:
2 1/2 c. confectioners' sugar
3/4 c. heavy cream
Directions:
Preheat oven to 350°. Grease 2- 9″ x 5″ loaf pans and set aside.
Place the pecans on a baking sheet and toast for about 8 minutes, or until toasted, but not burnt. Remove and set aside to cool.
In a medium bowl, sift the flour, salt, cinnamon, nutmeg and baking soda together. Set aside. In a large bowl, cream the sugar and butter until light and fluffy. Add the eggs and continue beating. Slowly add the sifted dry ingredients, beating until just incorporated. Beat in the Greek yogurt. Roughly chop the pecans and fold them into the batter. Fold in the apples Pour the batter into the prepared pans and lightly smooth the top of each unbaked loaf. Bake for 50-55 minutes or until golden brown on the top and a toothpick inserted in the center has only a few moist crumbs when removed. Cool for 10 minutes in pan, then remove to a wire rack to cool completely.
Meanwhile, whisk the confectioners' sugar and heavy cream together in a medium bowl. Continue whisking until the glaze is smooth with no lumps remaining. *Only add as much as heavy cream to get the glaze to the thickness you want. The glaze should be the consistency of very thick honey. Spread the glaze over the loaves.