Cranberry Streusel Muffins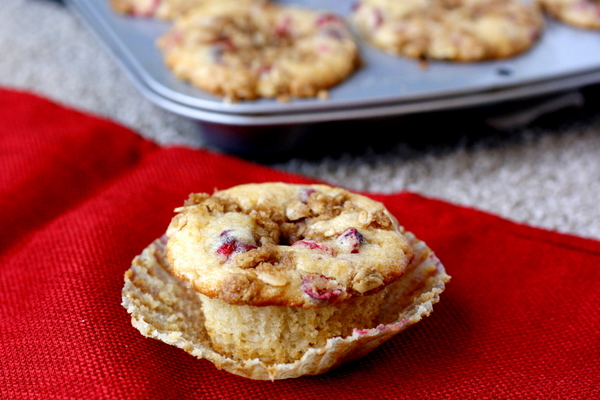 I've got one more Christmas recipe for you – I know I'm cutting it kind of close! I had to slip this recipe in right before Christmas because I think it would be such a good addition to your Christmas morning breakfast! Last weekend I was convinced I needed to bake something with cranberries since they're so pretty and seasonal, so I googled Cranberry Streusel Muffins and made the first ones that popped up in google (with a few modifications)! Turns out that was a good decision because these muffins were wonderful. Moist and sweet, with a tart little kick from the cranberries. I'm convinced a streusel topping can take any muffin from good to great, and this one is no exception. These muffins fulfilled my cranberry craving and I've already got plans to make more before Christmas morning. 🙂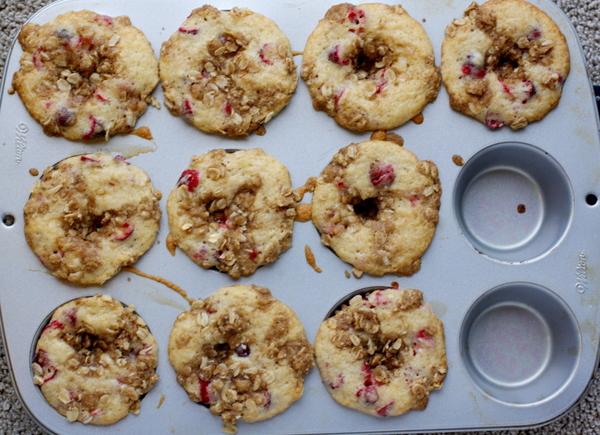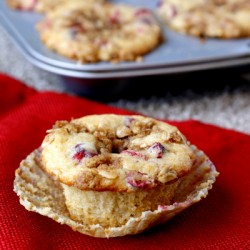 Cranberry Streusel Muffins
Ingredients:
Streusel Topping
4 tablespoons quick-cooking oats
2 tablespoon flour
4 tablespoons packed brown sugar
1/2 teaspoon ground cinnamon
2 Tbsp unsalted butter, softened
pinch of salt
Muffins:
3/4 cup granulated sugar
1/2 cup low-fat milk
1/4 cup vegetable oil
1 large egg
1 teaspoon vanilla
1 cup coarsely chopped cranberries
1 1/3 cups flour
2 teaspoons baking powder
1/2 teaspoon salt
Directions:
Preheat the oven to 350. Line a 12 cup muffin tin with 10 liners. Set aside.
For the streusel: Using your fingertips, mix together the streusel ingredients in a small bowl until crumbly.
For the muffins: In a large bowl stir together the sugar, milk, oil, egg and vanilla. In a separate bowl whisk the flour, baking powder and salt. Stir the cranberries into the flour mixture until just incorporated. Stir together the flour mixture and the wet mixture just until combined. Divide the batter among the prepared muffin cups. Sprinkle evenly with the streusel. Bake for 18 to 20 minutes or until a toothpick inserted into the middle of a center muffin comes out with moist crumbs.