Cinnamon Crumb Banana Muffins
How good do these cinnamon crumb banana muffins look??  I love trying new muffin recipes, and banana muffins are some of my favorites. I don't often stray from my current banana bread favorites (found here, here, and here), but anything with a cinnamon crumb topping immediately grabs my attention. We always have over-ripe bananas in our house, so these were easy to whip up one morning while Zeke was somewhat miraculously playing on his own.  I shared them with a ladies group from my church and you wouldn't believe the rave reviews they got. For such an easy treat, they certainly are delicious. They have a nice light texture, and the crumb topping adds a touch of extra sweetness.  Once again, Mike was sad that there were hardly any leftovers, which means I'll be making these muffins again sooner rather than later – yum!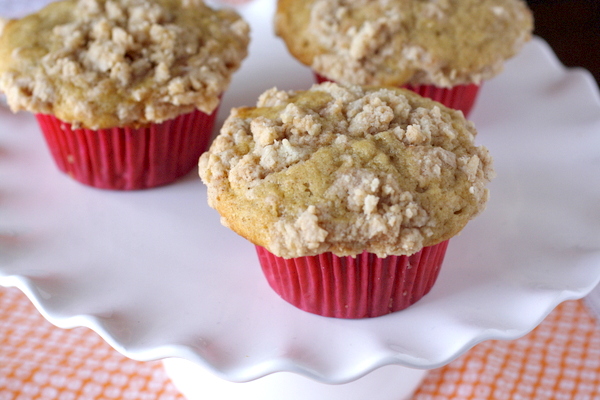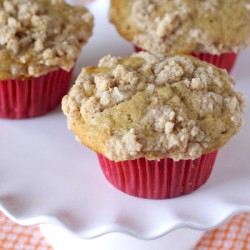 Cinnamon Crumb Banana Muffins
Ingredients:
Muffins:
1 stick unsalted butter, at room temperature
1 cup sugar
1 teaspoon vanilla
1 egg
2 overripe bananas, mashed
1/2 cup buttermilk
2 cups all purpose flour
1/2 tsp salt
1/2 tsp baking soda
1 tsp baking powder
1 tsp cinnamon
Crumb Topping:
4 Tbsp unsalted butter, melted
1/2 cup powdered sugar
1/2 cup all purpose flour
1/2 tsp cinnamon
pinch of salt
Directions:
Preheat oven to 350. Line a 12-cup muffin pan with paper liners and set aside.
In a large bowl, cream together the butter and sugar. Beat in the egg and vanilla until combined. Mix in the bananas until well combined. Beat in the buttermilk. In a separate bowl, whisk together the flour, salt, baking soda, baking powder and cinnamon. Slowly stir the dry ingredients into the wet until incorporated. Transfer the batter to the muffin tin, dividing equally.
Make the crumb topping: Stir all the ingredients together and, using your fingers, crumble over the tops of the muffins. Press down slightly on the crumble to make sure it sticks.
Bake for 20-25 minutes (mine took 25) or until a toothpick inserted in a center muffin comes out clean.