Chocolate Pecan Muffins
I made these chocolate pecan muffins months ago and I'm not sure why it took me so long to post them! Maybe it's just that all the fun, seasonal treats (like pumpkin spice puppy chow!) tend to take precedence over the every day recipes. But these muffins are delicious and I'm sorry I kept them from you all this time! Despite the chocolate, they are not overly sweet, which means you don't feel guilty eating one for breakfast or a snack. The pecans add a nice little crunch, and the mini chocolate chips provide just a little bit of melted chocolate in every bite. In short, these muffins are good! I hope you try them and let me know what you think. 🙂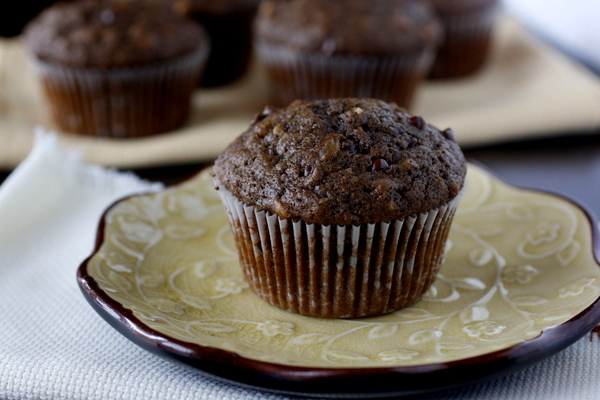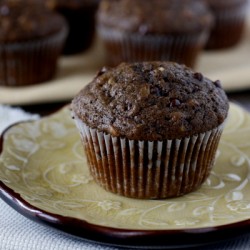 Chocolate Pecan Muffins
Ingredients:
2 cups all-purpose flour
3/4 cup whole wheat flour
1 cup firmly packed brown sugar
1/3 cup cocoa powder
1 tsp baking soda
1/2 tsp baking powder
1 tsp salt
1/2 cup vegetable oil
1/4 cup salted butter, melted
3 large eggs
1 cup plain yogurt
1/2 cup coffee
1 tsp vanilla
1 cup pecans, chopped
1 cup mini chocolate chips
Directions:
Preheat the oven to 375. Line your muffin tins with paper liners (for about 16-18 muffins) and set aside.
In a large bowl, whisk together the flours, sugar, cocoa powder, baking soda, baking powder, and salt. In a medium sized bowl, combine the oil, butter, eggs, yogurt, coffee, and vanilla. Fold the wet ingredients into the dry ingredients, then fold in the pecans and chocolate chips, being careful not to overmix.
Spoon the batter evenly into the prepared muffin cups. Bake for 20-25 minutes, or until the tops spring back when touched lightly and a toothpick inserted into a center muffin comes out with moist crumbs attached. Cool in the pan for 5 minutes, then remove to a wire rack to cool completely.
from the Tate's Bake Shop Cookbook