Pretzel Rolls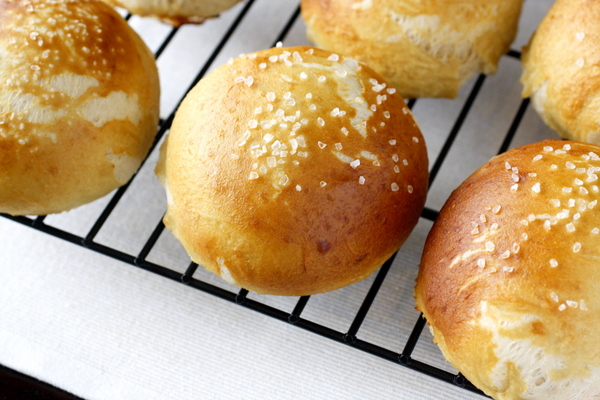 As soon as I tasted these pretzel rolls (warm out of the oven of course!), I was left wondering why in the world I had waited so long to make them. My friend Katie, who has given me lots of good recipes already, told me about these awhile ago, and yet I waited months before making them. Please don't make the same mistake I did, because these are good!
They are actually quicker to make than most breads. There isn't a lengthy rise time, and yet somehow they end up light and fluffy.  They have a traditional pretzel taste, and the coarse salt on top makes them look quite authentic. These are great on their own or eaten with a steaming bowl of soup. I also think they would make great sandwich rolls. I want to make them slightly smaller and try them out as slider rolls! I think that would be so cute for a Superbowl party idea. No matter what you make them for, I'm sure you'll love them. And good luck not devouring them as soon as they come out of the oven! 🙂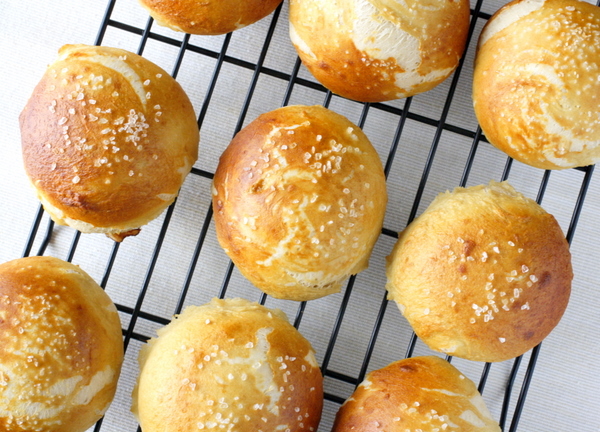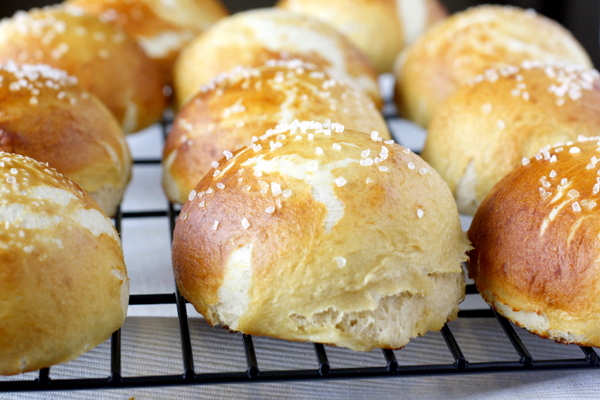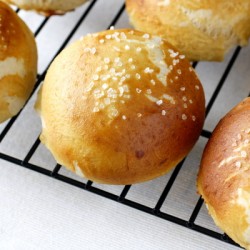 Pretzel Rolls
Ingredients:
1 1/3 cups warm water
2 tablespoons warm milk
2 1/2 teaspoons active dry yeast
1/3 cup light brown sugar
2 tablespoons butter , melted
4 cups all-purpose flour
kosher salt or pretzel salt
2 quarts cold water
1/2 cup baking soda
Directions:
In the bowl of a stand mixer fitted with a dough hook, combine 1/3 cup of the warm water with the yeast and let stand until foamy. Add the remaining cup of warm water along with the milk, sugar & melted butter and swirl to dissolve the sugar. Add flour and mix on med-low speed until it forms a nice a firm, pliable dough ball.
Separate the dough into 12 equal pieces. Cover dough with plastic wrap and a damp towel and let sit for 10 minutes. Form the dough into rolls and arrange on a lightly floured surface about an inch apart and cover with lightly oiled plastic wrap. Let the rolls rest for 30 minutes. In the meaintime, preheat the oven to 425° and lightly oil 2 baking sheets.
In a large stockpot, bring the cold water to a rolling boil and add the baking soda. Drop two rolls into the boiling water and boil for 30 seconds, turning once. Carefully remove with a slotted spoon and transfer to the prepared baking sheet, being careful to let the excess water drain off into the pot. Sprinkle lightly with salt. Repeat with the remaining rolls.
Bake the rolls on the upper and middle racks of the oven for about 8-10 minutes or until golden brown, shifting the pans from top to bottom and front to back halfway through. Let rolls cool on the baking sheets for about 5 minutes, then transfer them to a cooling rack. Serve warm, or at room temperature.